How NASCAR Driver Julia Landauer Learned To Thrive In A Male-Dominated Sport
Posted by Shiffon Co. on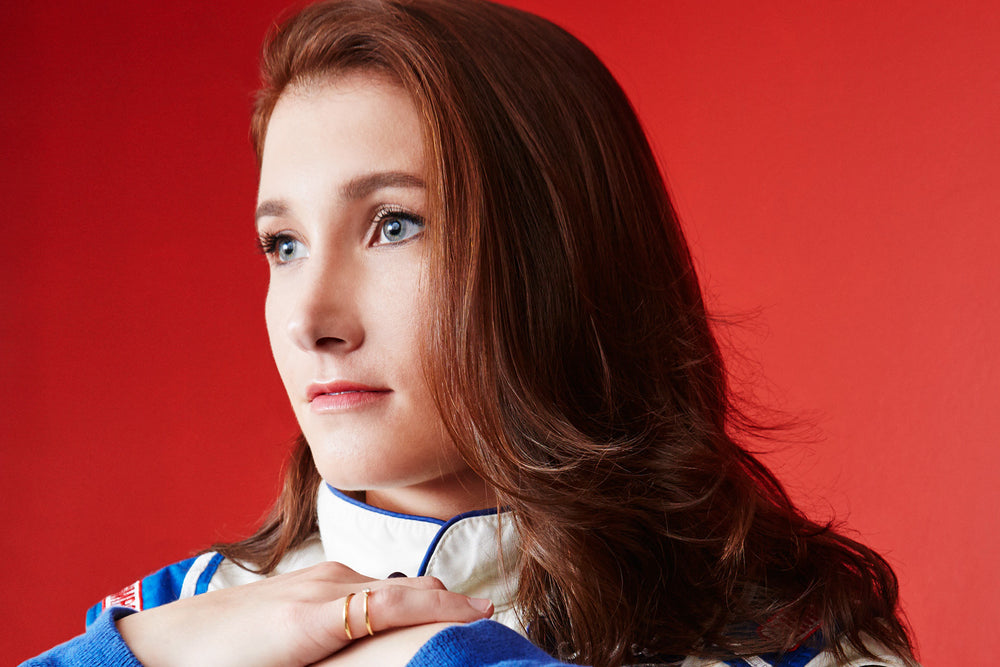 Written by Ingrid Vega
Photographed by Shoji Van Kuzumi
This feature is part of our series on members of our community who inspire us. From entrepreneurs, stylists, and consultants starting their own businesses to executives changing the game at the highest levels, we're lucky to be able to learn from these incredible role models.
In that vein, half the profits from our Duet Pinky Rings fund seed grants for entrepreneurs around the world. Each ring is a symbol of a pinky pledge to pay it forward to support women & a connection between each member of our community. Make your own pinky pledge here.
At the tender age of 14, stock car racer Julia Landauer already displayed immense potential to become a professional racer: she was the first female champion of the Skip Barber Racing series in its 31-year history. Now 26, she has made it to NASCAR, is the highest-finishing female in its K&N Pro Series Championship, had a short stint on SURVIVOR, and also made the Forbes 30 under 30 list in 2017.

Racing is one of the rare sports where women and men can compete side-by-side, but it's still considered to be stereotypically male; Landauer fights to equalize that. Sharing aphorisms from her and her mentors, she tells us how she finds footing in a male-dominated world and how utilizing business and marketing strategies learned from her undergraduate years at Stanford helps her sustain such an expensive sport. Despite all her glory, Landauer still stays humble and exhibits the same tenacity on and off the track. Needless to say, she is a true advocate for women and someone to look up to.
On turning a hobby into a career
JL: I started racing in go-karts when I was 10 and raced formula cars from age 13 until I was 16 (similar to the cars you see in Formula 1 or IndyCar, just smaller and slower). At 16, I had a two-part shift: First, I wanted to improve my driving skills and I heard that one of my competitors got a lot better after racing on oval tracks (NASCAR style) because of the different skills he developed. So I tried it too and ended up really loving oval racing because of all of the tight, side-by-side action that went on. Second, I realized around that time that racing required a lot of funding to make it to the top, and in the United States, NASCAR is the largest form of racing. From a marketing side, it made more sense to pursue NASCAR, plus I loved the racing. So my parents and I figured out how to transition and I started racing full time in the minor leagues of NASCAR in 2015, when I won a track championship.
Personal Branding Advice
JL: I'm definitely still learning, but I realized around the time I was transitioning to NASCAR-style racing that I needed to stand out to brands and have specific attributes that were identifiable and at least somewhat relatable. I got my wake-up call that I needed to actively work on my personal brand after watching myself on SURVIVOR, where I realized I thought I was projecting myself a certain way, but people perceived me differently.
So I sat down and thought about what I like, who I am, what my values are, and how I want people to perceive all that. Then I actively worked on integrating those "brand attributes" into the mundane parts of my daily life. I've found that the more vulnerable and honest I am with my fans, while giving talks, or when talking with executives, the more they feel a connection.
Especially with social media, I've found that it's important to show who I am, rather than just label myself. For me that includes behind-the-scenes content, posts where I get a little more philosophical, as well as content around the things I'm doing.
On success
JL: I'm racing in the last of the minor leagues of NASCAR, so my goal is to make it as a full-time competitor in the NASCAR Cup Series, which is the highest level (think what Jeff Gordon and Danica Patrick used to race before retirement). I want to continue to win at every level and be a fierce competitor.
I also want to continue to develop and grow my brand into a platform where people come together. A lot of the partnerships and projects I take on, such as my collaborations with Spotify or Disney, revolve around the intersection of racing/community/STEM/empowerment. While I don't know exactly what this endeavor looks like in every regard, I want to continue building that. I love sharing my stories and experiences through motivational speaking and want to continue to help people in that way, too.
On Mentors
JL: I've had very important male and female mentors, both of which have been super valuable. Focusing on the women, there have been a few:
My mom — she is such an incredible role model who has given me a lot of support and advice. She gave me a piece of financial advice that is relevant to everyone, but especially women, which is that "you should assume that no one will offer to pay you what you deserve, but you deserve whatever you can get." Especially when it comes to my speaking fees or providing other consulting or personal services, that mentality has helped a lot.
Lyn St. James — she's a retired professional racer who I've known since I was 13 and went through her driver development program. It has been really powerful to know a woman who had decades in the sport who I could go to and ask for straight forward advice. She has always been very straightforward with me and I always appreciate that honesty.
My female friends — I strongly believe that your friends, partners, and people you spend the most time with contribute to whether you thrive or level out. Having strong female friends who are pursuing so many different ways of life, but always encourage the best out of each other, helps me reach for my potential.
Personal Advice
JL: I've been very fortunate to learn a lot from my experiences and from those around me, and I have a few key points that I'd like to share:
Know how you want to be perceived and actively work to showcase that

. In a racing and team context, I always want to be the woman who can shoot the shit with the guys, so I make sure to do that in a way that's organic to who I am. I also want to be respected and taken seriously, so I respect others and take others (especially team members) seriously.

Keep an eye out for male allies.

It's a tough reality, but in many male-dominated spaces a man's voice may speak louder than a woman's. By building working relationships with guys in the industry, and by being transparent (but not whiny) about some of the issues I face in racing that the guys don't face, I've found that those men can advocate for me when my voice isn't loud enough. That also helps me build credibility and ends up being professionally beneficial.

Keep going

. It may sound cliche, but perseverance is key. Even if you don't know what "the right" next step is, keep moving, keep trying things. Never be stagnant.

Believe in yourself.

If you don't believe in yourself, why should anybody else?
On Jewelry:
That heart necklace that you see in the still photo has the most sentimental meaning to me. Some years ago I was going through my mom's old jewelry with her and she let me have that necklace. I don't have many pieces that were hers, so being able to share that is really important. I also really love how delicate and intricate it is and I always find myself gravitating towards it when I'm planning on wearing gold jewelry.


Visit startupgirlfoundation.org to learn more about the companies our Duet Pinky Ring is currently funding. Make your own pinky pledge to pay it forward and support women by purchasing a Duet Pinky Ring here.