Thara Natalie: Business Owner, Nutritionist, Mom, and Co-manager of Jay Sean
Posted by Shreya Chaganti on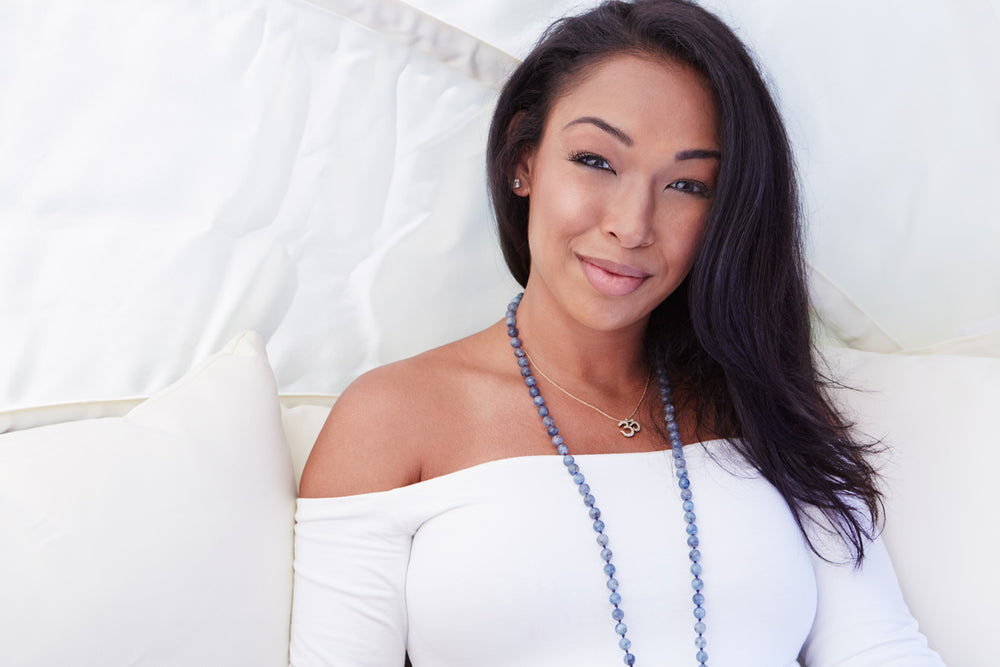 This feature is part of our series on women who inspire us. From entrepreneurs, stylists, and consultants starting their own businesses to executives changing the game at the highest levels, we're lucky to be able to learn from these incredible women.
In that vein, half the profits from our Duet Pinky Rings fund seed grants for entrepreneurs around the world. Each ring is a symbol of a pinky pledge to pay it forward to support women & a connection between each member of our community. Make your own pinky pledge here.
"I really truly believe that yoga should be mandatory."
For Thara Natalie, the decision to open her own yoga studio came after a trip to Bali she took before she got pregnant. She came back to the East Coast in the middle of January, and built herself a yoga room in her house because it was too cold to venture out to studios to do yoga. "I was meditating in my yoga room, and I came out one day and had this realization. It was like, you can't wait, you have to open a studio now. It was just one of those things," she says.
And three years ago, she did exactly that — all while her daughter was 18 months old. "I have a lot of support, good family, my parents are amazing - I'm very lucky," she says.
She didn't always think she'd open a studio so young, though. Her career started with modeling and music, which she pursued while she went to Fordham University in the Bronx. Her music career took off, getting her a record deal and world tour. Along the way, she met her husband, singer Jay Sean.
"I always wanted to open a studio, but I thought I would do it in my 40s," she laughs. "I thought I would be traveling, I wanted my freedom." But as she made the decision to start her family, she realized she wouldn't be traveling as much anyway. "I felt a calling that I needed a studio, that I needed a space that was mine to help people." And she made it work, teaching 14 classes a week, two of them at 6:30am!
Now a full time business owner, mom, co-manager of Jay Sean, and nutritionist, she shared some tips for success and talked to us about the women she admires - and, of course, jewelry!
"The baguette diamond ring was my "push present," for pushing Ayva out! And my engagement ring is unique, it's a yellow diamond. Hubby and I designed it together."
"A mala has 108 stones, and it's typically used for meditating. Now, they are made with all different kinds of crystals, each with their own set of healing properties. The blue one is cyanite, which is good for the throat chakra and communication.  The tiger's eye mala is the first one I ever got - I picked the stones out and a friend from California handmade it for me. It's great for bringing up that fierce fiery feeling we all need to feel powerful sometimes."
"My om necklace - it doesn't matter what necklace anyone gives me - I always wear my om necklace. I got it from my aunt and she gave a few of us girls an om, and I got mine when I got engaged to my husband. I loved it, once she gave it to me I wore it every day.
We were on a trip to LA and I had to take it off to go to an event, so i took it off and put it on the night table at the London [Hotel]. I left it there, and I knew that I left it there, but for some reason I didn't call the hotel, and i don't know why. Months went by - like 6 months - and finally I called the London in West Hollywood, California, and the words came out of my mouth and as quick as I said it the woman told me 'We have it, it's here, we've been holding on to it waiting.' So I went and picked it up and I was the happiest girl in the world.
Years later, I was at a photo shoot with Ayva, and we were both being filmed, and I had to take it off. I handed it to someone on set and told them to put it in the diaper bag. When we were finished, it wasn't in the diaper bag. I must  have taken the diaper bag apart 100 times. And diaper bags have lots of zipper compartments, I kept checking and checking and checking, but finally I had to let it go.
Months later, I'm on the phone with my mom, we're just having a chat, and she says to me 'Thara, i think i found your om.' She was just sitting on the couch, and she put her hand between the cushions and she pulls it out. And there's no way that it was there, because it was in the diaper bag! And you know how your parents have that one room, where nobody sits on the couch? She was on that couch that nobody sits on, and she found it.
So I swear it was meant to come back to me. It found its way back to me, so I'm meant to have it."
Who are a few of the women in your life that you admire?
My grandmother - My grandmother is 92 years young and absolutely incredible!  She is mother to 9 children, 7 boys and 2 girls and of course has a plethora of grand's and great grand's. Besides the fact that I love and adore her and am so grateful to have her hugs and love and her amazing food in my life, I'm always fascinated by her willingness to move and adapt with the times. I look at her and think of how much she has watched the world shift and change. But yet she isn't stuck in the past.  Even at her age, she is always willing to learn or try something new. If we tell her that she needs to change how she's cooking something to make it a little healthier, she's willing. Or if we recommend a new product for her that would be beneficial, she's open to it. She even drinks the protein shakes I buy for her daily to keep her strong! Even at her age, she's always willing to learn more. I love that about her and I think it's an important key to life.  Always being a student, always being willing to learn from others, no matter how much you think you know or how many experiences you may have had.
Kanan Kapila – my yoga mentor, my doulah and my friend.  Kanan is a beautiful soul who is always willing to share and lift other women up.  She is not precious with her knowledge but rather she shares it so willingly. She has an incredible work ethic and I have learned a lot from her as a fellow yoga studio owner and teacher but it is her thoughtfulness and kindness that mean the most to me.  She is not out for herself. She wants to do whatever she can to support others which is a beautiful gift.
Lisa DeMayo – Lisa is a woman who I was blessed to meet through a work opportunity.  She is a divorced Mom of three who runs a million dollar business as an entrepreneur.  She is a master connector and has created a massive network of people around her. But what I think is one of her biggest gifts beyond her obvious incredible work ethic and drive, is her ability to light up the people she works with.  Her gift is in making everyone around her shine brighter. She finds a way to make you see what you're capable of and helps you to get out there and go for it! She has certainly lit my fire on more than one occasion and I am always grateful for the example she sets as a mother, as a business leader and a friend.  
Who would be in your dream girl gang?
Jennifer Lopez -   I think she is an incredible performer but that's not what fascinates me most about her.  It's her business sense. I would love to learn how she grew her empire. And I love seeing her as a mother and uber successful businesswoman.  That combo excites me!
Oprah Winfrey – Her story is just amazing, all the barriers she's broken down and all that she has achieved, especially considering where her life began.  She is an example of not letting your story define you. Look how many people's careers she was able to give the boost they needed to really explode, literally changing their lives.  Then all the incredible philanthropy work she does from supporting other charities through the Angel Network to her own academy that she built in Africa. She has been blessed with so much but she uses it to do so much good.  And she inspires everyone to do the same. I would love to have a seat at her table.
"It doesn't matter who you are, where you come from. The ability to triumph begins with you. Always.
Michelle Obama – I loved her "Let's Move" initiative while she was First Lady.  I think getting our children moving and healthier is something so important and something I feel very passionate about.  The impact she held during that campaign was phenomenal. One of my dreams is to get unhealthy foods and drinks out of schools.  Nutrition plays such a key role in our behavior as well as our ability to focus and retain information. Why our children are drinking sugary sodas and processed snacks in schools is never clear to me since there is such a direct correlation.  
I also loved the relationship that she showed with President Obama while they were in office.  You could see their bond and you could see the support that she gave him and vice versa. It was beautiful to have a positive and loving relationship showcased in media since so many of the relationships we often see are struggling and negative.  She held that space with so much grace, class and intelligence.
Shiffon Co. is all about women supporting women – who is a woman who has supported you?
My biggest supporter my whole life has definitely been my Mom.  She has always been in my corner. She has always been there to support my big ideas and visions of what I wanted to achieve.  And she never makes me feel like I can't do or achieve something. I always feel so blessed for the bond and relationship we share because I know that not every mother/daughter relationship is like ours so I'm very grateful.  And I definitely get my strong drive and work ethic and energy levels from her too so I'm always grateful to her for instilling those strong values in me.
And of course, we love jewelry – what was the first piece of fine jewelry you bought for yourself, if any?
Oh my goodness, I think I was introduced to fine jewelry from way too early in life!  I think my husband can attest to my love for jewels. I come from a family of jewelry lovers and my sister is also a jeweler so I've been around and loved beautiful jewelry since I was very young.  I didn't buy it for myself but the first piece of jewelry that I can remember asking for was my "Thara" nameplate necklace. I asked my parents for it and of course I didn't just want a simple gold nameplate.  I wanted one with the "T" in diamonds and the underline in diamonds. I always had good taste, what can I say? I remember back then thinking that was just the coolest piece ever! It's amazing how thinking about your jewelry and when it was given to you can transport you back to that time and those feelings all over again, almost like hearing a song you once loved.  
What would be your advice to young girls who want to be like you?
Dream big but work even harder!  Everything starts with a dream but the dream isn't enough.  It's all the work that goes into making the dream real, that actually counts. 
And quite simply, don't give up.  Most of the time, the people that you see winning aren't the people who were the most talented or the most intelligent.   They are the people who persisted even after having failures or disappointments. They keep pushing forward because they believe in themselves and they believe in their vision and eventually, if what you're doing is good, and not hurting anyone; you will win!  
Visit startupgirlfoundation.org to learn more about the companies our Duet Pinky Ring is currently funding. Make your own pinky pledge to pay it forward and support women by purchasing a Duet Pinky Ring here.