What It's Like Being a Mom on the Set of an HBO Show
Posted by Shreya Chaganti on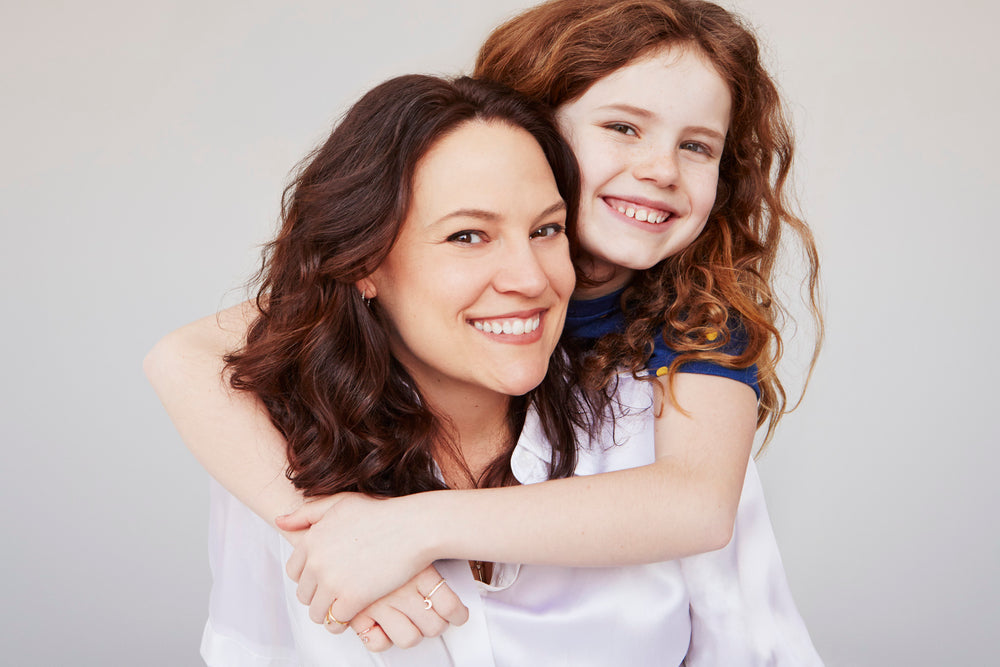 Photographed by Shoji Van Kuzumi
This article is part of our series on members of our community who inspire us. Half the profits from our Duet Pinky Rings fund seed grants for entrepreneurs around the world. Each ring is a symbol of a pinky pledge to pay it forward to support women & a connection between each member of our community. Make your own pinky pledge here.
If you haven't heard of Darby Camp – well, now you have. At just 10 years old, this talented little firecracker has already played opposite some of Hollywood's biggest names, Reese Witherspoon and Nicole Kidman, as Chloe Mackenzie in HBO's Big Little Lies. She also just starred in Benji, which you can watch on Netflix right now. (Right now! Do it!) She and her mom Lacy visited New York recently on a rare break from filming yet another movie, and we got to spend some time catching up and just hanging out with this awesome mother/daughter duo.
We met Darby and Lacy at an Alice's Tea Cup uptown, where immediately Darby jumped up to give us hugs. "I'm so glad y'all are here!" she said with a big grin. It was made clear that Darby was a performer at heart – she brought out her favorite Miranda Sings impressions a few minutes into the conversation, and would continue to periodically interject them throughout the visit.
"She's so fun. She's just like one of my girlfriends," Lacy remarked at one point. "She can sense when I need cheering up, and she'll give me a hug."
Before the visit was over, we went through Michelle Obama face cookies, an impromptu hotel room obstacle course (of which there is video evidence), and a large amount of cupcakes, but the highlight was getting to learn more about this wonderful family. In honor of Mother's Day, we wanted to share more about Lacy, one of the most incredible moms we know.
How did you get into acting and theater?
I graduated from UNC Greensboro with a BFA in Acting/Directing.  My internship was with Casting Directors Fincannon and Assoc. in Wilmington, NC. That's where I first got to experience set life and I fell in love with all things film/TV.  I also loved the 2 years I spent touring with Children's Theatre companies but eventually wanted to settle down in once place so I taught Theatre at my high school alma mater and there I met my husband, Clark, who was also a teacher and a basketball coach. Now we have our 2 daughters and one is an actor and one is a baller!
It must be strange to have your daughter have a career before she's 10! How did Darby get started?
When I had my first daughter, Ruthie, I reached out to talent agencies and she did some print work and commercials from 6 months old to around 7 years old.  One day she had an audition for a dramatic scene and she told me she "didn't want to act sad" because she tries every day to not get sad so why would she want to pretend to be sad?"  That's when Darby at 5 years old said, "I'll do it!" and she enjoyed learning the sides and "playing sad". She booked her first major role at 6 and has continued enjoying the process of acting.  Ruthie has decided to leave the acting for Darby and spends most of her time playing sports, especially basketball. It is strange to think of Darby having a career because to us it just feels like each of my girls have hobbies they love and we love watching them do it.  It's a lot of fun to see your kids do their thing! I don't ever want her to feel pressure to maintain a career. As much as I love seeing Darby act, if she decided to quit and devote her time to the girl scouts, I'd have to be ok with that. I just want both my kids to be happy and feel loved and supported.
Are you typically the one who travels with Darby? How do you balance being with both Darby and Ruthie?
I am with Darby most of the time, but Clark and I trade off as much as possible. Ruthie always comes and visits whenever we are out of town for than a few weeks. We try not to let 4 weeks go by without all being together as a family. We are very blessed to have our parents around to help us out when one of us is out of town. We actually live with Clark's mom and she fills in all the duties whenever we need her. 
The industry isn't always the best place for kids - how do you navigate that with Darby? What is it like being a mom on set?
We spend a lot of time talking about the difference between right and wrong and treating people the way you want to be treated...being grateful...how being a nice person can be better than being the most talented person.  We talk about the difference between reality and make believe and how movies and Hollywood don't really reflect reality. Being a mom on set is great. I love watching Darby interact with all the people behind the scenes and learn about their specific jobs. Especially when she doesn't know I'm listening on the com tech.
We hope you enjoyed getting to know Lacy as much as we did, and we hope to see the Camps back in New York very soon, if we don't see Darby on screen before then! Catch her in the next season of Big Little Lies this fall, and keep an eye out for a Christmas movie with her name on it.