Wellness Expert Stephanie Peterson on Being a Founder
Posted by Shreya Chaganti on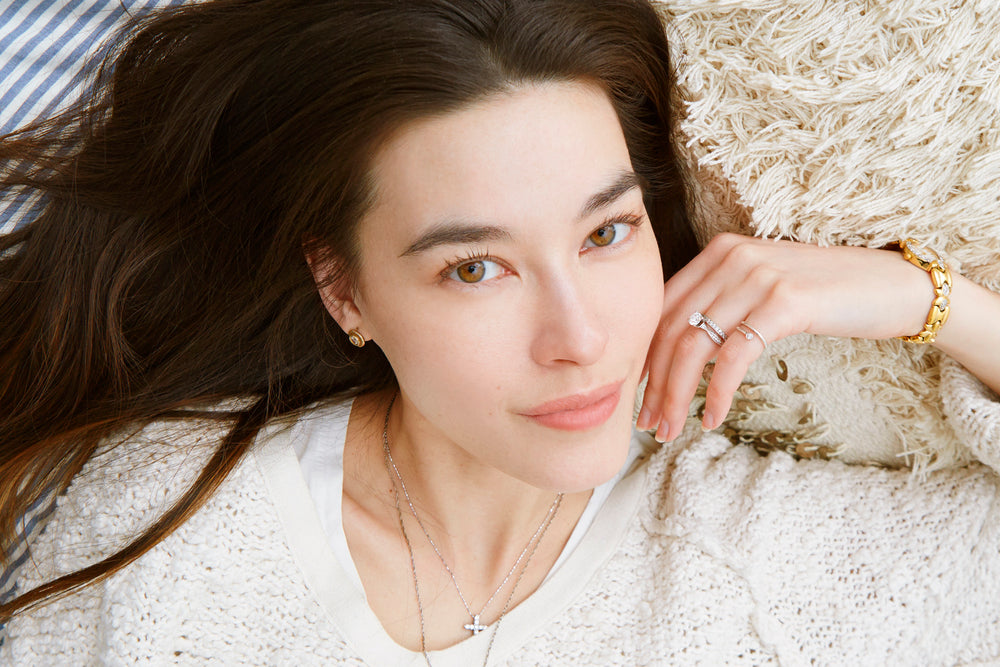 Photographed by Shoji Van Kuzumi
This article is part of our series on members of our community who inspire us. Half the profits from our Duet Pinky Rings fund seed grants for entrepreneurs around the world. Each ring is a symbol of a pinky pledge to pay it forward to support women & a connection between each member of our community. Make your own pinky pledge here.
Stephanie Peterson is someone special. And we're not just saying that because her company, Smoothie Beauty, is being funded through profits from our Duet Pinky Rings! Apart from being one of the kindest and most radiant people you'll ever meet, she is a bona fide expert in all things health and wellness. From ayurveda to traditional Korean skincare, Steph knows the answers to all your questions (trust me, we've asked her a lot). 
She began researching the effects of the ingredients in most beauty products for her blog, The Global Beauty. Finding that nearly every product that people used on a daily basis were filled with harmful chemicals, she decided to go back to the basics. She consulted a trusted source – her Korean grandmother. "From hearing stories of her sneaking fruits and vegetables to apply to her skin until today, fresh food-based ingredients have been her go to natural anti-aging beauty secret," according to Stephanie. Realizing that there were no companies creating truly all natural skincare products, she decided to create her own line. Her food-grade face masks are so fresh that they need to be cold shipped and kept refrigerated — and they're edible!
For a special edition of What's In My Jewelry Box, we visited Steph to take a look at some of the jewelry pieces she holds near and dear to her heart, and get her perspective on what it was like for her to start a company.
"I've learned more from this experience than I think I've learned in a really long time. Dealing with different challenges and trying to think about different solutions to problems that arrive - basically it's trying to do several different jobs at once," she says about the experience of being a founder. "I love it — some days are easier than others, but it's definitely really fulfilling. I feel really happy to be able to share my product with people and have that make an impact on their lives. It makes all the hard things worth it."
As for what she would tell anyone considering starting their own company, she says something that she found really helpful at the beginning was talking to people in the industry and skincare space about the project she was considering. "Give your product or offer your service to people and make sure it's well received and that people actually want it. Because when you get into it, it's a huge commitment. Hopefully if the company goes well you're going to be putting a lot of time into this."
Apart from that, "start building out a great mentor team who can really support you, answer your questions, help introduce you to people. That would be my advice."
Jewelry
Watch: This watch was a gift from my father to my mother for their 1 year anniversary and she passed it down to me! It's a piece that I would love to pass down one day as well.

Engagement ring: I feel that a woman should love her engagement ring! My now husband has a lot of strengths but picking out jewelry is not one of them. So I dropped hints that it would be great for him to propose with a symbolic ring, but I would like to pick out my ring when I came back in NYC and that's exactly what he did! It was such a magical engagement and it also took the pressure off of him to pick the perfect ring for me.
Alexandrite June birthstone ring: My father and second mother bought me this ring for my 18th birthday! It was such a thoughtful and meaningful gift and I love the way it changes color from purple to green depending on the light.


Cross diamond necklace: This necklace was given to me by my mother and the diamonds are from her wedding ring. Although my parents are no longer married, this is a reminder of their love for me.

Dumortierite heart charm: My father brought this charm back from Afghanistan for me after he returned from his service there. He was a military doctor, so he was helping the injured soldiers during war. There was a handful of times where bombs exploded near the base hospital, so I'm very lucky and thankful that he made it back safely and unharmed.
Globe necklace: This necklace was a gift from my second mother. It opens up and inside is a quote "Though we travel the world over to find the beautiful, we must carry it with us or we find it not" by Ralph Waldo Emerson and this necklace actually is the inspiration behind my blog, The Global Beauty!


To learn more about Stephanie and her (delicious) face masks, visit smoothiebeauty.com! 
To support more entrepreneurs like Stephanie, make your own pinky pledge here. Visit startupgirlfoundation.org to learn more about the companies our Duet Pinky Ring is currently funding.