Sarah Slutsky and Karen Weiss-Slutsky on Creativity, Transition, and the Power of Women Supporting Women
Posted by Shiffon Co. on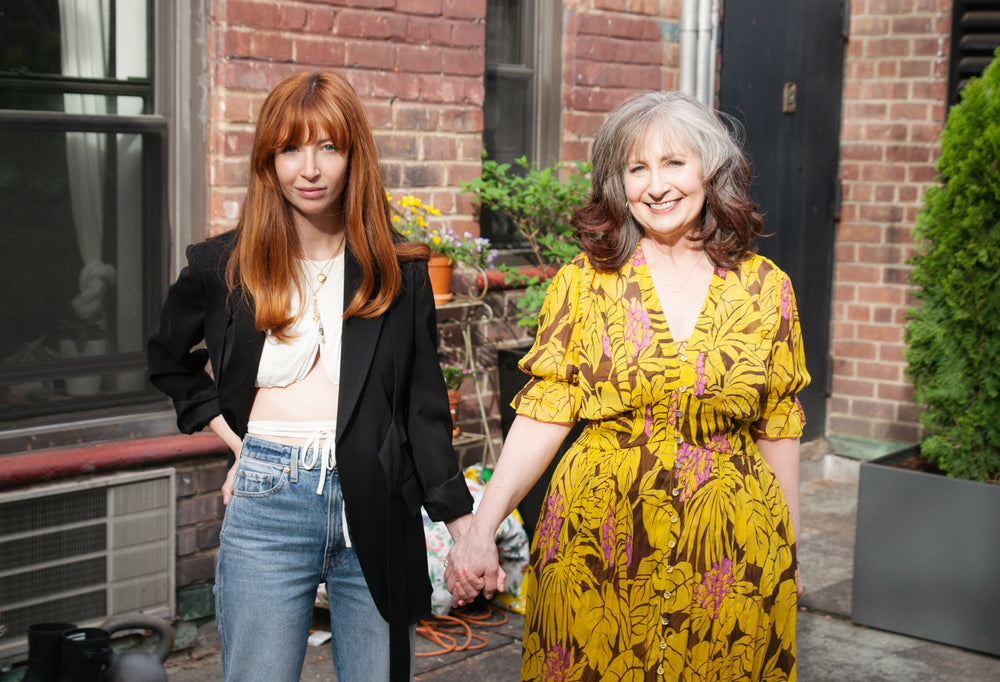 by Shreya Chaganti
photos by Katie Borrazzo
"Sometimes we imagine that when we get a job and a house, everything kind of falls into place and life is just steady," says celebrity stylist and Shiffon mentor Sarah Slutsky. "But life is full of changes and transitions. We have the choice to reach out and ask for help and support from others, and decide: am I making the most of what's in front of me and my opportunities? Or am I running away?" 
With graduation season in full swing, it's great advice for any young adults on the cusp of their next stage of life. But, as Sarah points out, it's also applicable to the inevitable transitions and bumps in the road that can occur at any time, and any age. 
Sarah: Toteme Dress
If you haven't heard of Sarah, she's the brains behind iconic looks worn by iconic women including Emma Watson, Rachel Brosnahan, Cynthia Erivo, and Lucy Liu, among others. To us, she's someone special. She was one of the very first people to believe in Shiffon and its mission, back when it was just a wild, optimistic idea. Shiffon's dream was a world where women lift each other up instead of tearing each other down, and Sarah has been someone who truly embodies that value. So when she told us this story, we definitely wanted to share it.
In January of 2019, Sarah's childhood home -- the home where her mother Karen Weiss-Slutsky was still living -- was destroyed. The Arctic freeze that hit Chicago that winter caused extensive flooding that wiped out childhood memories, cherished belongings, and nearly everything that Karen owned. To make matters worse, the destruction happened just after the property settlement of Karen's divorce had been reached, as she was sorting through over 30 years of belongings to decide what to save. 
Karen: Free People Dress
Karen speaks in a warm Chicago accent, very matter-of-factly.  "It was shocking," she admits. "I lost a lot. But I also think about how lucky I was to be in a position to have all these wonderful things in my life. And the beautiful home that my kids were raised in."
It's a wonderfully positive take on a situation most would consider devastating. As I quickly learn, that fierce positivity and real sense of gratitude is a recurring theme from both Sarah and Karen throughout our conversation and throughout their lives. 
Karen grew up in Chicago, one of six siblings in a creative household. Her dad was a piano player, her aunts artists, and family gatherings always involved art and music and imagination, which she says nurtured her creative spark. She passed that sensibility down to Sarah, who fondly remembers childhood outings with her mother to Chicago art museums and taking classes together. Though it wasn't all rosy — Sarah remembers her parents having a difficult marriage and divorce — she always remembered feeling loved and supported. "I don't think most people would describe my childhood as particularly happy in a traditional, family-at-the-dinner-table way, but I'm still a very happy person, with a lot of friends and a lot of love in my life."
Although many parents would have concerns about their children pursuing a career in a creative field, where lack of stability can come with the territory, Karen was the opposite, according to Sarah. "My mom was always encouraging me to take more art classes instead of other things like biology, for example," Sarah laughs. Karen says that Sarah had "such a flair" for fashion and creativity from a young age, recalling a time when she handmade dresses for her group of girlfriends when she was just 13 years old ("I still have a picture!"). 
"In my house there were never any negative reactions toward doing what really made you happy," Sarah says. "But what I do remember hearing forever from my parents was to be your own boss. My family encouraged me to be brave enough to take the leap and work for myself. I never had the feeling that [they] would be disappointed or wouldn't approve." 
Karen: Anthropologie Dress
Karen, for her part, has also had a wealth of experience throughout her career. Out of school, she worked as an Occupational Therapist, something that combined her creative passion with her love of medicine and desire to help others. When she realized she wanted to do more with mental health, she went back to grad school to get her doctorate in psychology. She was a practicing psychologist for 10 years before retiring, wanting to spend more time with her kids. In time, she became a certified group fitness instructor, teaching musically choreographed workouts for 3 years before stopping work to care for her aging parents. Oh, and she also sells things on eBay. ("Mostly clothes and other things. Like Poshmark, before that existed.") She says it's nice to have someone ask about her jobs, as it's forced her to think about all the things she's done over the years and how "exceedingly gratifying" it felt to be able to make a difference in others' lives. 
Now, 3 years later, Karen is facing yet another transition, with the outcome yet to be determined. With repairs still being completed on her destroyed house and the lease on her current home ending at the end of June, she is in limbo. So Sarah wanted to do something magical for Mother's Day to help rejuvenate her mother, inside and out, and support her mom the way her mom supported her throughout her life.
And Karen really needed it. "After my house was destroyed, every waking moment of my life has been consumed with some aspect of the cleanup, documenting, hiring contractors, and so on, and it's still not complete. For a year and a half before COVID, I had no social life. I've been so out of touch with people." She felt worn down and isolated, and the pandemic didn't help matters. 
After both of them were vaccinated, Sarah told her mom to just trust her, and get on a plane to New York. "I just reached out to some people I knew to see if they'd be willing to help fill her world with some beauty," Sarah says. She booked facials with Joanna Vargas, a haircut with Jacob Rosenberg, and planned out a fitting like she did with her clients to give her mom the full royal treatment. The responses she received were overwhelmingly positive. "It was just what we always talk about at Shiffon -- women supporting women." 

Sarah: Closed Jeans, Khaite Top
Karen: Free People Dress
"I never could have anticipated this past two weeks. It's given me the momentum I needed to propel me forward," says Karen. At 64, an age where most people are thinking about retiring, Karen is looking to the future. She has a lot of life left, she says, and wants to seize the day to prioritize what she loves. "To be surrounded and supported by the people that Sarah has brought together to work with me has been exactly what I needed. It's just been perfect, and I didn't know how much I needed it."  
Sarah: Christopher Esber Dress, Ilio Smerald Shoes
Karen: Ulla Johnson Top, Ann Taylor Pants
"Watching her as a kid, I remember her always using her creative mind and her sense of 'I can accomplish anything' to do tasks that most people wouldn't. She is somebody who has always been working towards creating the life that she aspires to for herself and her children, but also is very curious and creative and has so much insight," says Sarah. She wanted to bring that spirit and energy back to the forefront for Karen. She was amazed at how encouraging and giving her community of women was when she just told her mom's story without any expectations.
Sarah: Jacquemus Tee, Adaem Blazer, Khaite Jeans
Karen: Diane Von Furstenberg Dress
Both recognize how lucky they are to be vaccinated, to be able to see each other safely, to have access to a community that was able to give so freely. They are deeply grateful for the kindness they've been shown and the privilege they have to be able to participate in self care like this and emerge afresh from a bad few years.
Sarah and Karen hope that their story will send the message that success and happiness are still possible, even through devastating setbacks, and even if they don't look the same as they do for everyone else. They wanted to express how powerful a simple act of kindness can be, and that reaching out to ask for help and support can lead to unexpected joys. As for Karen's next steps: she'll be temporarily staying with her brother, finishing repairs and selling her damaged house, then she hopes to explore New York and live closer to Sarah. "And start ballroom dancing!" she adds. 
Sarah: Khaite Jeans, Goldie Tank
Karen: Mara Hoffman skirt and top