Q&A: Alexandra Waterbury
Posted by Shiffon Co. on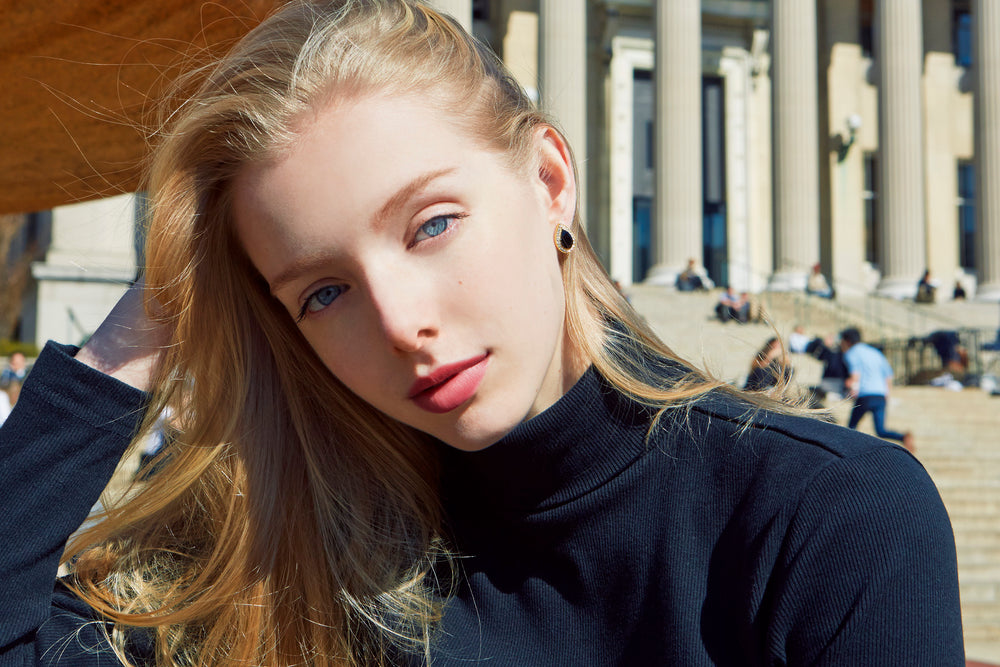 This week on the Shift, we wanted to draw attention to a member of our community and true #shiftmaker who has been fighting for her rights as well as basic respect for women in a community where, apparently, a lot more goes on behind closed doors than is commonly known. 
On September 4, Alexandra Waterbury filed a lawsuit alleging that her ex-boyfriend Chase Finlay, a principal dancer at the New York City Ballet, or NYCB, had secretly taken intimate photos and videos of her without her knowledge and shared them with others affiliated with the company. Dancers Zachary Catarazo and Amar Ramasar as well as donor Jared Longhitano were named as additional defendants in an amended suit filed Tuesday. In the suit, she accuses NYCB of creating an "out of control fraternity-like atmosphere" enabling these men to feel comfortable degrading and "[violating] the basic rights of women."
Instagram, Alexandra Waterbury
According to the lawsuit, the texts began last September when Finlay asked Catazaro and Ramasar if they had any pictures of women they had had sex with, saying he would send them "ballerina girls I've made scream." All three men reportedly engaged in sharing explicit photos of women. The lawsuit also cites a text message in which Longhitano allegedly suggested to Finlay that they buy "like half a kilo [of cocaine] and pour it over the girls and just violate them… I bet we could tie some of them up and abuse them like farm animals."
Waterbury was a former student at New York City Ballet's affiliate school, the School of American Ballet, or SAB, also named as a defendant in the amended suit. She says SAB "required all parents of its students to sign a waiver allowing its agents, servants and/or employees to control the manner in which the students eat, sleep and study."
Finlay resigned from the company in August, and Ramasar and Catazaro were fired last Saturday.
According to Waterbury, she and Finlay had been dating for nearly two years when she discovered these text messages.
We had the chance to sit down with Waterbury to learn more about her experience.
"I was just in shock."
The Shift: What happened the day you found the texts?
AW: I was literally just checking my email. I had slept over the night before, and he had to leave for the airport early in the morning. He had given me the password to his computer — I have the text where he sent the password to me. A message popped up on screen and it was…pretty vulgar.
I was just in shock. I took photos of the texts on my phone, and some of them are actually blurry because I was shaking, I was so in shock. 
TS: What did you do after finding them? Did you confront him?
AW: I called him right then, asking what he had to say for himself, if he was going to lie to me again. He was in the car to the airport — all he said was "I'm in the car right now, I can't talk."
Afterward he started to apologize a lot. But he was sorry he got caught, not sorry for doing what he did. 
 "They knew about Chase's drinking and drug problems."
TS: When did you decide to pursue legal action?
AW: I believed that a lawyer was the only thing that could make an impact in this situation. I needed to protect myself and the other victims if they wanted to join me. I couldn't believe that this had been going on for so long and under the nose of City Ballet. They knew about Chase's drinking and drug problems. He trashed a hotel room while on tour with NYCB and the company's insurance ended up paying $150,000 in damages. And there were underage apprentices there.
[Chase] kept trying to apologize those couple weeks after I found the texts. I was in shock, trying to process everything. I guess it officially ended when he got the letter from my lawyer saying that we were filing a lawsuit.
It's crazy, because before this we were talking about moving in together, discussing details about finances and things like that. 
"I would get threatening phone calls and messages from people involved."
TS: What was happening over summer, between you finding the texts and filing the lawsuit?
AW: I was in denial all summer. I literally just wanted to run away from New York and from… people. It's funny, because people would message me, saying it looked like I was having so much fun traveling, but the reality was the complete opposite.
I would get threatening phone calls and messages from people involved, and I think that's important for me to put out there because I know it's happening to other women who were victims in the text messages. These men are manipulating the other victims in hopes that they won't come forward. It not only breaks my heart, but also causes an extreme amount of frustration and disappointment. These women deserve so much more.
"I'm not ok."
TS: Has this experience impacted your day-to-day life, with school and work?
AW: I'm still on the roster at [my agency] Wilhelmina. I don't have a choice — I can't stop working. They've been really supportive throughout this entire thing. Just because someone was an asshole to me why should my life and career stop?  As for school, I'm extremely behind. I miss class sometimes because I'm too consumed with this. I cry on campus a lot because I get most of my updates throughout the day. I'm not ok. I go to therapy twice a week. I talk to my mom 4 times a day. I can't leave my bed sometimes.
The one thing that's kept me going is the messages I've been getting from people across the globe who are telling me about experiences they've had that are similar or worse, and saying that I gave them the strength to speak up too. Also when I see little kids smiling or playing I think everything has to be done to prevent them from losing that smile. The pain that I feel should never affect another human being.
The only thing that I would ask is "why did you do this to me?" I want an answer from him and all of the other men but I don't think I ever will get one. 
It's so hard to process that so many people I knew for years were just lying to me every day. 
They lied to me over and over. My trust in people is kind of shattered. 
"This is not normal."
TS: How many people were involved?
AW: There were 10+ women and 10+ men involved. Now I know Chase had been cheating on me from a month into the relationship, with people in the dance community, people that I thought were friends. The past two years were basically a lie.
And the one thing that ties all these people together is NYCB and SAB. Clearly there is something deeper that is wrong with the institution, because this is not normal.