Model Alliance Founder Sara Ziff on Inspiration, Advice, and Making Change
Posted by Shiffon Co. on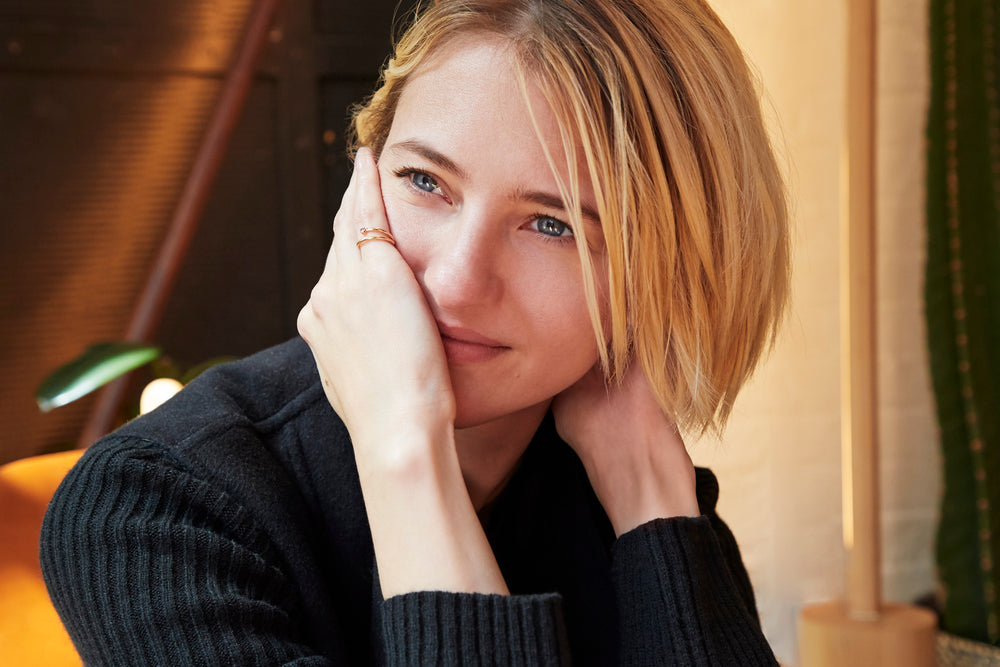 This feature is part of our series on members of our community who inspire us. From entrepreneurs, stylists, and consultants starting their own businesses to executives changing the game at the highest levels, we're lucky to be able to learn from these incredible role models.
In that vein, half the profits from our Duet Pinky Rings fund seed grants for entrepreneurs around the world. Each ring is a symbol of a pinky pledge to pay it forward to support women & a connection between each member of our community. Make your own pinky pledge
here
.
Photographed by Shoji Van Kuzumi
Sara Ziff has been an icon to many in the modeling realm. Scouted while still in high school, she used modeling to pay for college, and soon became a strong advocate for models' rights. She started the organization Model Alliance as a platform for herself and her peers to come together to shed light on and take action against injustices in the modeling industry. Recently, she has been instrumental in passing landmark legislation that gives underage models protections including working hours, trust accounts, and chaperones. We had the chance to catch up with her to learn more about her journey, what inspires her, and her advice for younger girls. 
Tell us about yourself and your journey getting to where you are today. Who were some of your inspirations when you were younger? 
I was born and raised in New York City and grew up downtown in a family of PhDs (my dad is a scientist, my mom's a lawyer, my grandparents were scientists). Modeling wasn't an obvious path or something that my family encouraged. A photographer scounted me on the street near Union Square and, at first, it was more of an after school job. After high school, I started working full-time and modeling allowed me to gain financial independence and pay for college. 
When I was younger, I was mostly inspired by local actors, filmmakers and artists -- other NYC kids like Claire Danes and Julia Stiles, my friend Ry Russo Young, Alice Neel. I was also intrigued by Hillary Clinton. I remember devouring her book, Living History.
What was the process like of starting Model Alliance? What were some of the challenges you faced?
The Model Alliance grew out of my and other models' experiences. I'm the first to say I've had a good career, and many of my experiences were positive, but I also experienced the pitfalls of working in what remains a largely unregulated industry. When I was 18, my then-partner and I started documenting behind-the-scenes at shoots and shows. We also gave cameras to my model friends to share their stories. Over the years, the footage became the basis for a feature documentary, Picture Me, which shed light on various issues, like pervasive sexual misconduct, pressures to be very thin and lack of financial transparency. It was scary and risky at the time; I was making a good living and this was before social media, so it really wasn't done for models to speak out. The film gave me and my peers a platform to organize and not only raise awareness for our concerns, but also take action. 
By then, I was enrolled at Columbia University and I was studying the history of the labor movement and community organizing, so I'd begun to see these issues as labor rights issues and models as workers. I approached established unions to ask if they would accept models into membership, but as independent contractors we were unable to unionize. So I decided to start from scratch.
I received a lot of pushback from some stakeholders in the industry (still do!). Believe it or not, our efforts to extend child labor protections to child models were met with resistance. The same is true for creating protections against sexual harassment. It hasn't been easy. But I've stuck with it and, together, with other models and allies, we've gone from strength to strength.
You've made significant changes in the industry, in particular with the Child Model Act. Tell us more about how that came about. Did it accomplish what you'd hoped?
When we formed the Model Alliance in 2012, one of the first things we did was to look at the laws on the books and, shockingly, we found that child models (models under 18) weren't covered under labor law in New York State. So I worked with lawmakers to champion the Child Model Act, which reclassified underage models as child performers and thereby afforded them protections including maximum working hours, provisions for trust accounts and chaperones for models under 16. The law isn't perfect. For example, educational provisions are only triggered on the third consecutive day of employment, and most modeling jobs only last a day or two. But the law does offer important safeguards and, as an indirect consequence, it encouraged the industry to hire models 18 and over, as opposed to using kids to model as adults.
Who are some of the women who inspire you today?
There are so many. I'm particularly inspired by Kalpona Akter, the former child garment worker-turned-labor leader in Bangladesh. She runs the Bangladesh Center for Worker Solidarity and now serves on the Model Alliance's advisory board. We first met in 2012, when I learned about the brutal torture and murder of her co-worker, Aminul Islam, who had been organizing workers in a factory that made clothes for Tommy Hilfiger, which is a brand that I had worked as a face of. I was horrified and knew little at the time about garment workers' plight, so I traveled to Dhaka to see the conditions on the ground. That became the start of our friendship. Kalpona has been leading the fight for safe and fair working conditions for garment workers, who are mostly women and girls who don't make a living wage and who are literally risking their lives on the job while working in sweatshops. In the wake of the Rana Plaza factory collapse in 2013, other models and I staged a protest at New York Fashion Week and joined her in calling on brands to sign onto the Bangladesh Accord.
What role has mentorship played in your life?
I've been fortunate to receive guidance from some pretty badass women. Agatha Schmaedick is a human rights lawyer who recently joined the Model Alliance's board. Over the last year, we worked together and with other industry stakeholders to develop the RESPECT Program, a private sector initiative that invites leading companies to make an enforceable commitment to end sexual harassment and other abuses in the fashion industry. As a graduate student at Harvard Kennedy School, I also worked as a research assistant for Dr. Bryn Austin, who is a leading expert on eating disorders. She helped me develop an evidence-based approach to policy-making and, together, we conducted the largest study to date on eating disorders in the modeling industry. Our research study provided the basis for successfully championing the Talent Protections Act of 2018 in California, which aims to address issues for sexual harassment and eating disorders in the fashion and entertainment industries. 
What are your goals for Model Alliance in the future?
The Model Alliance is a nonprofit research, policy and advocacy organization for people working in the global fashion industry. We've made real progress, but we still have a lot of work to do. I'm excited to move forward with implementing the RESPECT Program, which would essentially create a global HR department for the fashion industry, but one that's driven by the workers themselves. Recently, we introduced the Models' Harassment Protection Act, which would protect models against sexual and other forms of harassment in New York State. Last year, we also hosted our first event in Canada, with a focus on environmental sustainability. With the push for the Green New Deal, I think fashion has an important role to play in addressing the industry's impact on our planet.
What advice would you have for young girls either getting into modeling or wanting to start something of their own?
Dream big, but start where you are. Invest in your community and the talents they bring to create opportunities for yourselves. Try things and don't be afraid to be bold and make mistakes -- inevitably, you will, and it might be painful, but you will learn and grow so much. Tell your own story, whether than means creating your own imagery, furthering your education, or volunteering. Nobody achieves anything great by themselves, so look to your peers for support. 
--
Fun facts:
Top 3 songs at the moment?
I've been on a Post Malone kick (Sunflower, Better Now). Also Cat Power.
What's something you're reading that you want to tell everyone about?
When I'm not buried in contract negotiations, I've been reading "Men Explain Things to Me" by Rebecca Solnit.
What's one thing you carry in your purse that would surprise people?
An annoying amount of change tends to accumulate at the bottom of my purse. It could double as a piggy bank.