Beauty Expert Jessica Matlin Talks Jewelry, Style, and Entrepreneurship
Posted by Shiffon Co. on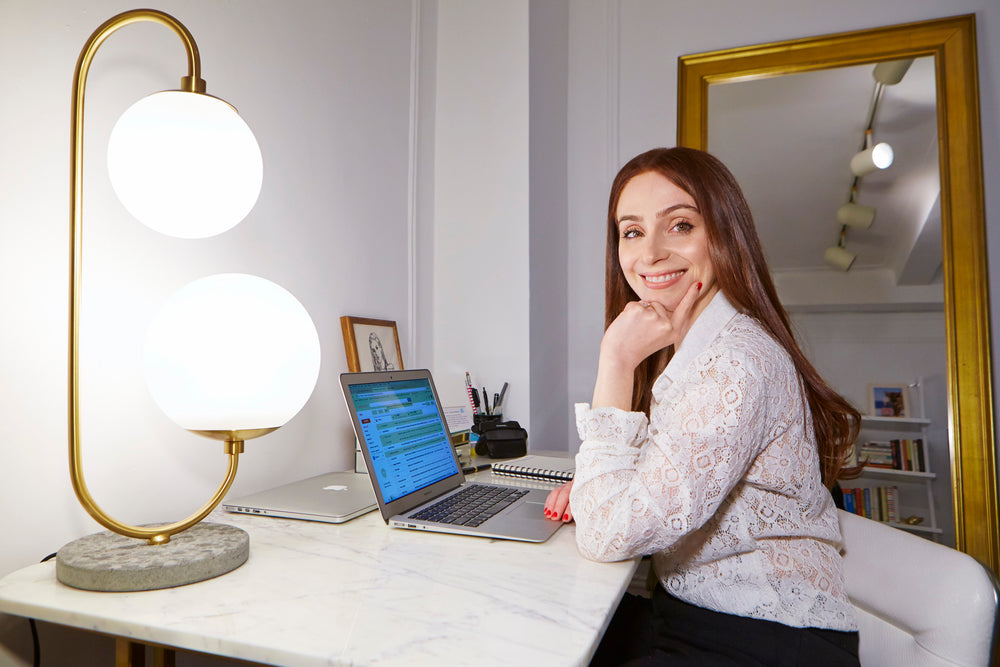 Photographed by Shoji Van Kuzumi
Meet Jessica Matlin, beauty expert and fabulous female founder. Check out her award-winning (and hilarious) weekly podcast Fat Mascara where she dishes out the inside scoop on all things beauty with co-host Jennifer Goldstein. Catch her casually chatting up heavy hitters like Christian Louboutin, Bobbi Brown, and a cadre of big-name industry experts to reveal intimate and surprising stories that aren't told anywhere else. We visited Jessica at home to learn more (and play with her fabulous clip on collection). 
What is your most meaningful piece of jewelry?
My engagement ring. It's an oval rose cut diamond with a rose gold band. The designer is Anna Sheffield. Naturally it's sentimental because it's an engagement ring, but it feels like I've had it forever because it's so my style. (I love rose gold and delicate rings.) People often ask if I had it designed. It just goes to that show Geoff (my fiancé) knows me too well. 
Geoff was very sweet and asked me what sort of style I liked for an engagement ring. I honestly had not given it much thought, so I started looking around online. I started poking around on Pinterest and I kept on "Pinning" Anna Sheffield rings without realizing they were all of the same designer. From there, I fell in love with her pieces.
I wear two bracelets. Both were gifts that I put on the minute I opened the box and never took off. The first is a Sydney Evan evil eye bracelet. I love evil eyes—anything to try and ward off people's bad energy. The second is a Luis Miguel Howard bracelet with a gold star. I have been into stars hardcore since I played with Barbie and Jem—the shape is so spectacular. I love how this bracelet drapes off of the wrist. The star is high-impact, but it also adds a little "pow," I think.
Have you ever lost or broken a piece of jewelry? 
I'm still longing for pieces that I had when I was a little girl. Maybe my mom has it somewhere, or it's in storage or something, but I had a gold nameplate in the early Nineties. This was obviously pre-Carrie Bradshaw, so there was nothing funky or ironic about it. In fact, the nameplate craze was very serious. Mine was 14 karat gold and came on a 14K box link chain, which I thought was very sophisticated. "

Jessica

" was written in script, and the "i" was dotted with a heart shaped diamond. At that time, every girl in school was wearing a nameplate, and many of their mothers were, too. (Strange.) I must have begged for it, because I remember feeling so relieved when I got it. I wore it with everything—a nice cable-knit sweaters one day, and a Ren and Stimpy t-shirt the next. I need to find that thing—there's no way we got rid of it!
We love our startup girls - tell us about the process of starting Fat Mascara. How did that come about?
A few years ago, I got really into podcasts—mostly WTF with Marc Maron and The Bret Easton Ellis Podcast. Those two shows feature conversations with filmmakers, musicians, and comedians, and I thought, "Why don't I do one for beauty?" I got together with Jenn Goldstein, who I knew from Hearst. (She's at Marie Claire, and I was at Cosmopolitan at the time.) Jenn and I had become friendly through work events and just the beauty scene, and I had enormous respect for her, liked her energy, and thought she was a hoot. From there, Fat Mascara was born!
What advice would you have for your younger self or girls who aspire to be like you?
Pay attention to when you're happiest at work. What are you doing? Who are you talking to? I felt most into my job when I was interviewing (or really, just chatting with) beauty experts, asking questions that felt intuitive to me. That observation helped give way to the podcast. 
 
As told to Shreya Chaganti for Shiffon Co.
This article is part of Shiffon Co.'s What's In My Jewelry Box series, where we visit women we admire to learn about what their jewelry means to them. Follow along @shiffonco for sneak peeks at our next features.