Inside Model Activist Renee Peters' Jewelry Box
Posted by Shreya Chaganti on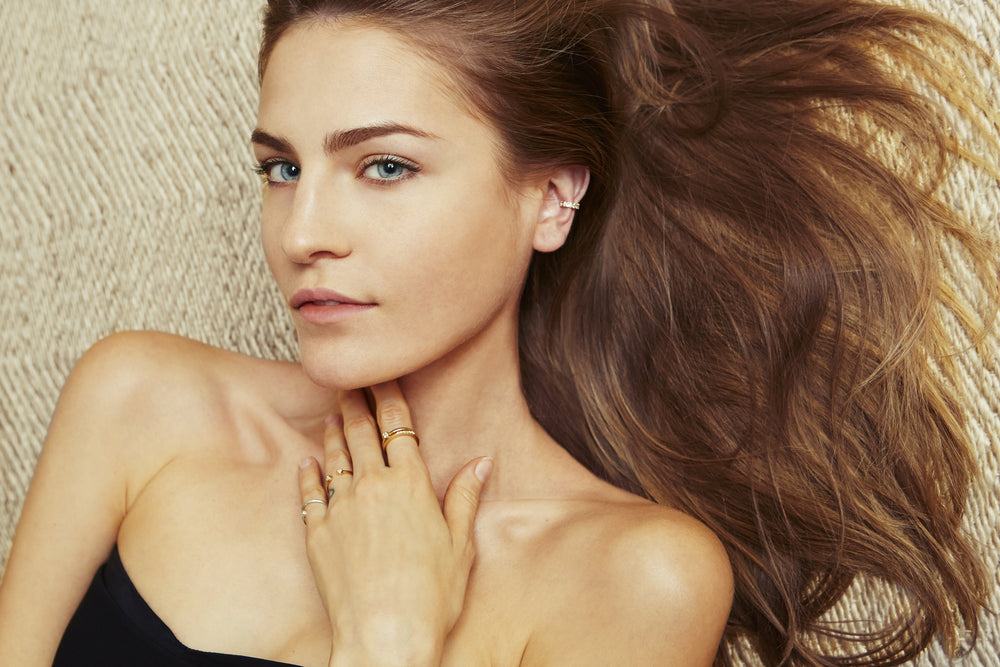 A fashion model based in NYC, Renee Peters is an avid animal lover and nature enthusiast using her platform to promote sustainability and give back to the natural world. She founded Model4greenliving, a site devoted to practical tips and everyday actions for living a sustainable life. We visited Renee at her home to learn more about her and her journey.
Tell us about the Model Activist group you are part of. How did you get involved?

Cameron Russell and Áine Rose Campbell created the group encouraging us to be a community. A community where we support each other, help share each other's passions, and use our access to media to make real, positive change.

About a year ago one of my friends, who is also a model in NYC, invited me to their first event. I knew right away that I was at home. They encouraged inclusivity, which wasn't something I had encountered yet during my time as a model. There were girls at all different stages of their careers, some super models and some just starting out, all together in one room. It was so comforting to break down the walls of hierarchy and judgement that we often build around ourselves in the industry.  I really value all of the members as friends and inspirations. The results have been beautiful to say the least.
 

Let's delve into your jewelry box. 
Tell us about some of the non-jewelry you keep in here. What is the story behind the butterfly and seashells?

I was on a trip in Nicaragua, and saw this poor Monarch Butterfly covered in sand and struggling against the wind. Monarchs migrate thousands of miles to breed every year, and their populations are in steep decline due to habitat loss and pesticide use. I wanted to at least ease its suffering, if I couldn't save it, so I took her inside and gave her water.  She only survived the night, but brought me so much love with her presence. I decided to bring her back with me so that I would never forget our time together, and that's why she stays in my box. 
The seashells and pebbles are from my trip to Costa Rica, Nicaragua, and Tulum. I really love the beach, and miss it so much in NYC. They are my little pieces of paradise. 

Do you have a broken or lost jewelry story?

The beads in the jewelry box are from a Dumortierite bracelet that a good friend brought back for me from a Buddhist monastery. I think they have a calming energy from the monastery. The bracelet may have broken, but the beads still make me smile when I see them.

What are some of the most meaningful pieces of jewelry in your box?

The brooch is a Road Runner (a bird found in deserts of the southwestern United States, Mexico, and Central America). My dad gave it to my Grandma, and she gave it to me because I really love birds. He brought it to her from Arizona in college. My parents met and got married in Arizona, but I haven't spent any time there as an adult. The brooch holds a special place in my heart because it reminds me of what it might be like there. The other pin, with a feather in it, is one that I won a couple of years ago at the BDDW archery contest in the Hudson Valley. All these fashion and creative-industry people got dressed up and had a tournament on this beautiful farm. It was really fun! I won the pin because I got a bullseye on my first try… such a fun memory.

My boyfriend really wanted to get me something nice for my birthday, so he got me the Catbird crawler and studs. I don't like anything too ornate but LOVE little, simple pieces so these were perfect. He definitely got brownie points that year.
What is some advice you would give to your younger self?

You are perfectly imperfect just the way you are. Love yourself no matter what, and treat yourself with compassion. Never forget your purpose during this life, and remember to have fun along the way!

Tell us a dream you have for yourself that you see yourself doing in the near future.

I want to be the face of more campaigns that promote a sustainable way of living, and have that be the main source of my modeling income and work. I also want to do more public speaking for organizations promoting the betterment of our planet.
This article is part of Shiffon Co.'s What's In My Jewelry Box series, where we visit women we admire to learn about what their jewelry means to them. Follow along @shiffonco for sneak peeks at our next features.
Photographed by Shoji Van Kuzumi