Fashion Maven Nneya Richards Does It All
Posted by Shiffon Co. on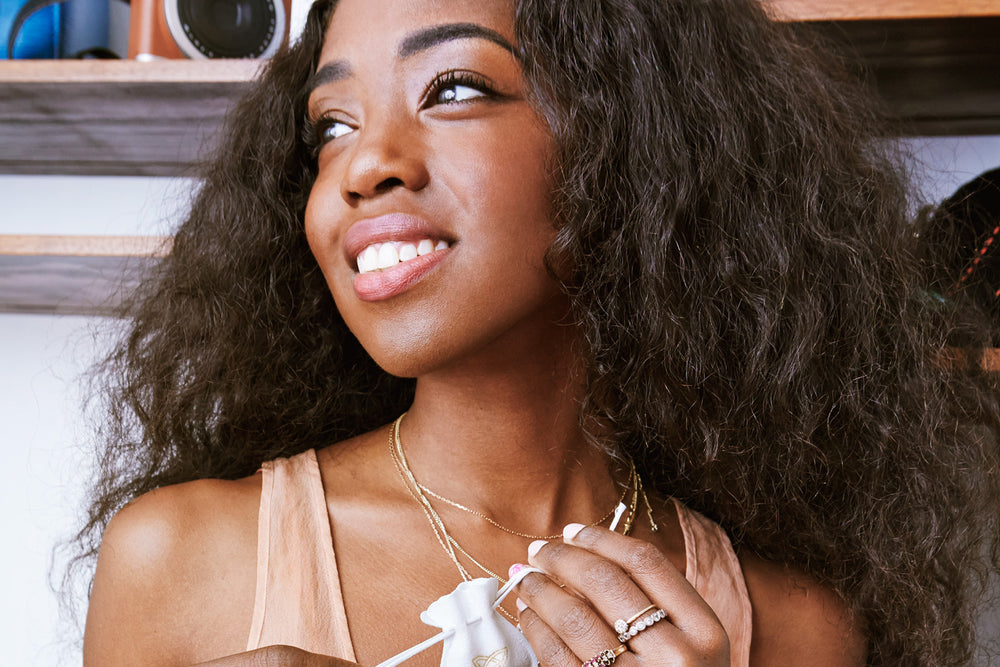 Photographed by Shoji Van Kuzumi
Nneya Richards is a prime example of a woman who asked "Why not?" and created the opportunities she wanted for herself in the world. A self-professed "jane of all trades," she has significant PR, fashion, and editorial experience, including stints at TeenVOGUE, BCBG MaxAzria, Zac Posen, and more. In order to fully pursue her creative interests, she founded Double N Rich Consulting, a 360 degree creative consulting agency that allows her to guide brands across a broad range of fields. If all that wasn't enough, she is also an avid travel and lifestyle blogger whose work has been featured in publications like Vogue and Vice. We visited her apartment in Brooklyn to learn more about her jewelry, style, and travel essentials.
Tell us about your most meaningful piece (or pieces) of jewelry.
​Maybe my arm cuff? But all of my jewelry was bought at a special time, or was given to me by someone who means/ meant a lot to me. I'm a big jewelry person, I feel like I was born wearing jewelry. I recently read an amazing story on Racked.com about young women of color having their ears pierced as infants and the idea of that pre-teen, getting their ears pierced at the mall ritual seen on sitcoms is alien to us. I read the article laughingly because I do think I look weird without earrings! I did get my second hole at a mall in New Jersey though, with my godmother! And every few months I go through my mom's jewelry box and discover something new that I take and become obsessed with.
​Really, all of my jewelry is special to me. Currently I'm looking for an Nneya ring that just fits on my pinky right now and matches that Nneya chain that you see in the picture. I've had both since I was a toddler. So Brooklyn, I know. Also those earrings are pretty Brooklyn and are my moms from the 90s. That silver ring with the pearl I got on my first trip to Cuba at a jewelry market. Those emerald earrings on my first trip to Cartagena with my mum; there's a gold dream catcher on a black string with an emerald on it that I also got from Cartagena. I'm living my dreams every day and always generating new heights and new goals; that bracelet is a reminder of that. There's a black pearl on a leather string. I got that from one of my favorite places in the world for surf vacations, Sayulita, Mexico, like 7 years ago from Pachamama. It's almost a trademark that you've been to the town.
I hate collecting junk and I vacillate from being a minimalist and a hoarder so I found jewelry is an amazing thing to collect to remember my travels. That blackamoor ring my mom got for me from a jewelry dealer in Brooklyn. I love it because of my connection to Italy and the Blackamoor art and jewelry tradition there. It was recently a huge controversy when a member of the royal family wore a vintage blackamoor broach when meeting Meghan Markle. One of my favorite designers of new age blackamoor jewelry is Wilfredo Rosado who I had the pleasure of working with. With that collection he did for the jewelry style what Kehinde Wiley did with black men in Renaissance painting. The collar is from Third Crown, former clients that I'm so fond of. They are amazing people.


What is the story behind your arm cuff?
​My gold etched arm cuff is actually one of my grandmother's bangles. She had quite a few off them and the jangle of her bangles is apart of my sensory memory of her. She was a trip. When I would ask her what she wanted for her birthday a few times she said, "hmm whatever you like, it will be yours one day."​ I've always been a big arm cuff person and when she died, I wanted to wear something of hers to her funeral. My mom and I each put on one of her bangles. She was bigger than me, so the place where it most naturally fit and where it was the most me was my upper arm.


What are your jewelry box essentials? What items do you take with you when you travel?
My everyday pieces like my rose gold and loose cast diamond ring. Another gold and diamond ring from my mom. Garnets and diamonds. They are little diamonds... I sound like Elizabeth Taylor.... I do love rings though and have quite the collection of them. I found another box the other day! My Nneya nameplate. My pinky duet ring, Trinity School ring... Tacori promise lock bracelet. A cuff my best friend Sophie got for me while she was on a gorilla trekking trip with her family in Tanzania. She watched the local women make it, mold it over the fire and hand etch the designs. I wear it everyday because I love it. It's also really hard to take off. An evil eye bracelet from Latelita... It sounds like a lot but much of it I rarely ​take off so I travel with a small pouch usually. I usually also travel with a variety of studs. I have about 7 holes in my ears. So I like to have a variety to mix it up.
For longer trips, I have a roll up jewelry display with more earrings, chokers etc. but I'm paring it down more and more lately.

Have you ever lost or broken a piece of jewelry?
I've been late countless times because I couldn't find one particular ring and I had to know where it was -- and I wasn't even planning to wear it. Between my mum's house, my apartment in Brooklyn, where I stay in London and my boyfriend's house, I am constantly frustrated and racking my brain as to where I left a certain piece. ​​One of the delicate rings that I wear is my moms from the 80s, maybe 70s. There was another one that went with it that I lost, it caused a fight between me and an ex. I'm still pretty pissed about loosing that ring. Another ring with a pearl that I lost comes to mind. Ugh, don't remind me. It makes me really sad. So many earrings lost. Once, at summer camp, I lost an earring and a girlfriend lent me hers because I refused to go to a dance with naked lobes. I have a lot of ear piercings that people hardly see because of my hair, but trust me, they are not naked! At my place in Brooklyn, I have a beautiful little dish that my friend made for me in Tel Aviv that I use to take off any rings or earrings at the end of the day when I come home.
I like to mix new or smaller houses with my Tiffany or Cartier, old school pieces. I love my Shiffon pieces, of course, the message and the meaning -- female empowerment -- behind the pinky duet ring is something that resonates with me. Also, it's such a comfortable ring. And the two bangles are my first gift from my boyfriend. It was very sweet and thoughtful. He's very observant as to how I wear jewelry and had his own ideas of how I would wear it. He's into watches, which I love and those Euro beaded bracelets, which I'm getting used to, but all of his were given to him so I guess it's ok. I think because I'm so obviously a jewelry person, and eclectic jewelry as well, I've gotten some great jewelry from exes. Haha, I think often the jewelry a partner chooses for you says more about them than it does about you. There's an exception to every rule, but generally speaking I rarely wear something that's not special to me anymore. 
As told to Shreya Chaganti for Shiffon Co.

This article is part of Shiffon Co.'s What's In My Jewelry Box series, where we visit women we admire to learn about what their jewelry means to them. Follow along @shiffonco for sneak peeks at our next features.