VIP Publicist Chandni Modha On Career, Entrepreneurship, And Mentorship
Posted by Shiffon Co. on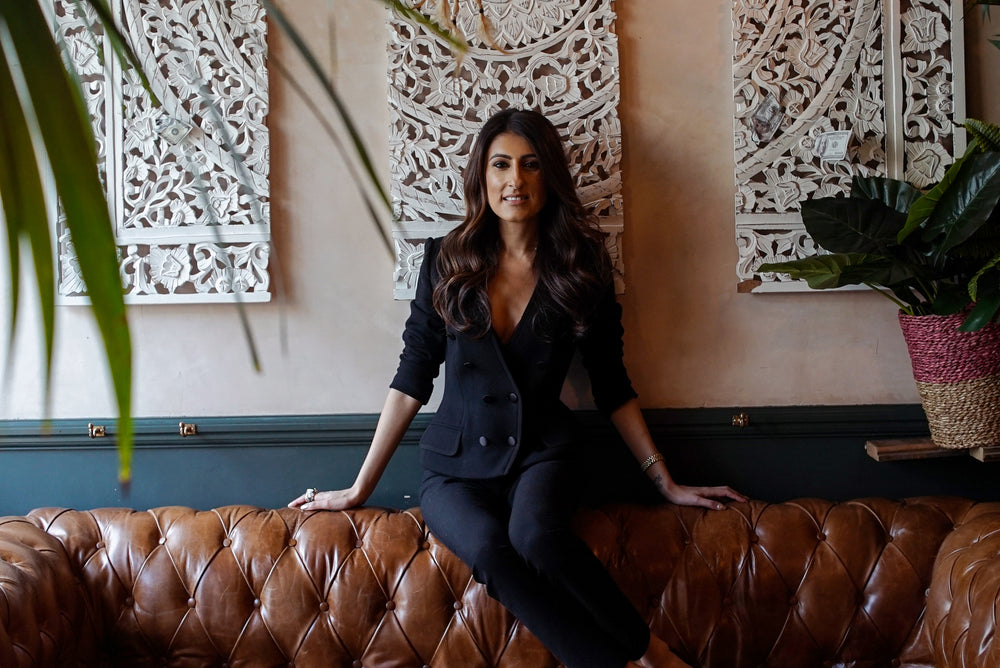 This feature is part of our series on members of our community who inspire us. From entrepreneurs, stylists, and consultants starting their own businesses to executives changing the game at the highest levels, we're lucky to be able to learn from these incredible role models.
In that vein, half the profits from our Duet Pinky Rings fund seed grants for entrepreneurs around the world. Each ring is a symbol of a pinky pledge to pay it forward to support women & a connection between each member of our community. Make your own pinky pledge here.
Chandni Modha is a powerhouse in the world of VIP and PR. Starting her career at Dolce and Gabbana right after finishing university at Central Saint Martins, she has gone on to embrace entrepreneurship and start her own publicity company CJM Publicity. Over the years, she has worked with celebrities across the globe, from Beyonce and Helen Mirren to Naomi Campbell and Bollywood royalty Sonam Kapoor.
To Shiffon Co., she is someone extremely special — one of our very first mentors, and someone who truly embodies the concept of paying it forward. We are so excited to get the chance to share her journey, the role of mentorship in her life, and the women who inspire her.

Tell us a little about yourself and your career! Where did you grow up/go to school, and how did you get into VIP and PR?
I always had a strong interest in the world of fashion and entertainment.  I grew up in Leicester, one of the most "ethnically diverse" cities in the UK. From day one immense colour, beautiful fabrics, design, culture and people surrounded me.
My family owns a successful Indian clothing brand called Anokhi House of Sarees. The business has been in the family since 1967, so the aptitude for fashion and business runs in my DNA.
At the age of 18 I was accepted into the world-renowned Central Saint Martins College of Art & Design in London — alumni include Stella McCartney, Marc Jacobs, Albert Elbaz,  Alexander McQueen, to name but a few. Here I completed a 4-year Bachelor of Arts degree in Fashion Design with Knitwear.
While at university, I was approached by Dolce & Gabbana to intern for them at their London Celebrity PR Office. Dolce & Gabbana have always been one of my favourite designers as the Italians have a very similar culture to the Indian heritage. With my passion for fashion and styling this was a dream come true!
Dolce & Gabbana enabled me to find my place in the world of fashion, luxury and PR. After completing my internship I was lucky enough to be offered a role as an assistant in the "Celebrity Press Office," which is what the role was known as before the days of "VIP". Dolce & Gabbana were one of the only brands to have a celebrity department at that time, as they knew the importance of VIP dressing for brand awareness.
I worked with incredible celebrities and tastemakers such as Beyonce to Pat McGrath and attended awards ceremonies, film festivals, concerts and major fashion shows. I was dressing the likes of Helen Mirren, David Gandy and Sonam Kapoor and working on world tours with one of my favourites being Kylie Minogue's 'homecoming tour'. I had a part in creating iconic moments in fashion and entertainment. This paved the way for a lifelong career in PR & VIP.
After 10 glorious years at Dolce & Gabbana I was headhunted by an international PR agency called Starworks. This enabled me to learn how to use my black book of contacts and manage a variety of clients giving me the confidence to set up my own Brand Partnerships and Entertainment Marketing agency, CJM Publicity.
What was the process of starting your own company like?
 CJM Publicity is my baby. It carries my heart and soul and is something I will treasure forever.
Starting my own publicity firm was a risk, but it was rewarding. It has been a roller coaster of events and processes but every situation, whether positive or negative, has been a learning curve for me.
Hard work, dedication, networking and above all being fabulous have been the key factors into making CJM Publicity the successful business it is today.
How and why did you get involved with Shiffon? What has it been like for you to mentor a startup?
I was the first person Shiffon contacted 2 years ago by the founder Shilpa, when Shiffon was just an idea she wanted to develop. She sent me the loveliest message and I immediately wanted to help her or at least point her in the right direction.   
I for one feel that it is important to give back and help others, especially those who are still finding their purpose and way in life. I was helped and mentored by Salvo Nicosia — now Vice President of VIP at Karla Otto — when I was still new to the industry. To this day I still reach out to Salvo for advice and guidance in my line of work.
In the early days of Shiffon, Shilpa and I put in a lot of hours from late night conference calls to helping the brand create media attention with celebrity placement. I put Shiffon in touch with a lot of personal contacts that I had made over the years, some of whom have now become mentors themselves for the brand.
Looking back I am very proud to see how far Shiffon has come and I am excited to see how far it will go.
How has mentorship affected your life, whether as a mentor or a mentee?
Mentorship has opened my eyes to a world of incredible beautiful, diligent, and intelligent women whose combined efforts have the ability to create something meaningful and magical. I adopted a family of like-minded individuals who will always have my back. As much as I have mentored Shilpa from the conception of Shiffon, she has also helped me in my times of anxiety and uncertainty.
Who are some of the inspiring women in your life and why?
Inspiring women exist all over the world, from feminists to businesswomen to mothers, sisters and daughters. A woman who wakes up in the morning and is changing the world to make it a better place is someone who is always an inspiration to me.
A few women who I have been inspired by over the years:
Emmeline Pankhurst — although she wasn't perfect, in 1918 she demanded rights for women as the leader of the suffragette movement. Never underestimate the power of a fearless woman. Suffragettes threw themselves under horses, chained themselves to railings and starved themselves for the right to vote.
Audrey Hepburn — there was nothing Audrey couldn't do. She was a humanitarian, dancer, actress and member of the Dutch Resistance. She taught us endless optimism: 'Nothing is impossible, the word itself says 'I'm possible!''

Maya Angelou — author of the seminal autobiography 'I Know Why The Caged Bird Sings' and civil rights activist. One of her most famous quotes, which I truly believe in, is 'I've learned that people will forget what you said, people will forget what you did, but people will never forget how you made them feel.'

The incredible Malala Yousafzai — she survived a Taliban assassination attempt as retaliation for her activism for girls' education and went on to be the youngest recipient of the Nobel Peace Prize.  At the age of 20 she was already changing the world with her words and her work.

Michelle Obama, who has recently joined the Shiffon girl gang — is there anything she cannot do? She encourages you to "spread your wings and soar" and is an inspiration to girls everywhere.

And of course my own mother — there is no one woman who is stronger and more inspiring to me than she is.
This interview has been edited and condensed for clarity.
Visit startupgirlfoundation.org to learn more about the companies our Duet Pinky Ring is currently funding. Make your own pinky pledge to pay it forward and support women by purchasing a Duet Pinky Ring here.