Why This Publicist Says Never to Take No For an Answer
Posted by Shreya Chaganti on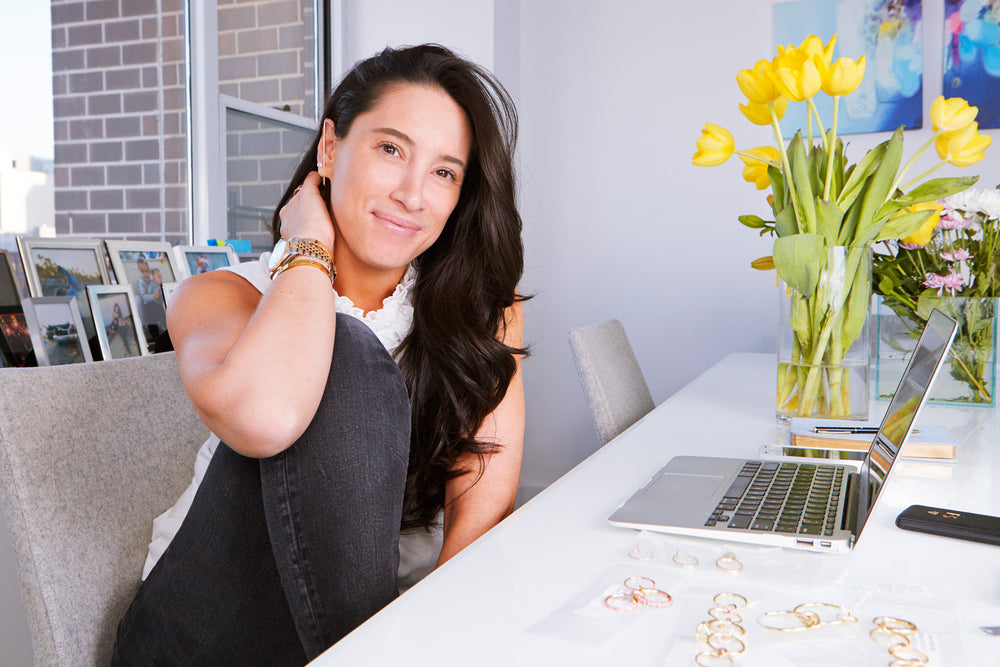 This feature is part of our series on women who inspire us. From entrepreneurs, stylists, and consultants starting their own businesses to executives changing the game at the highest levels, we're lucky to be able to learn from these incredible women.
In that vein, half the profits from our Duet Pinky Rings fund seed grants for entrepreneurs around the world. Each ring is a symbol of a pinky pledge to pay it forward to support women & a connection between each member of our community. Make your own pinky pledge here.
"Remember, no is yes."
Francesca Simons is a modern day superwoman. Armed with a British accent and a bottomless well of drive and energy, she has taken the jewelry PR world by storm — all while raising two kids on her own.
"What kind of a publicist would I be if I wasn't a hustler?" she says. She fell in love with PR at an early age, working at Agent Provocateur for a year as part of her degree from the University of Manchester. From there, with trademark persistence, she distributed her resumes to New York agencies and landed multiple offers. She's honed her expertise in fine jewelry during her stints at various agencies like Autumn, Margo Siegel, and Wetherly.
Now, she's started her own business from the ground up. Working with heavy hitters like Spinelli Kilcollin to trending designers like Kat Kim, she's built a brand on the mantra of "quality, not quantity", handling on average 7 client projects at once. Besides Spinelli Kilcollin and Kat Kim, her other clients include VRAM, Ashley Zhang, Melissa Kaye, Carbon and Hyde, Jade Trau, Marla Aaron and Tomasz Donocik.
We visited her home and her adorable children to learn about the women she admires, productivity tips, and her vast, gorgeous collection of jewelry!
My mother is someone I truly admire for her incredible personal qualities. She is the most caring, kind, reliable, selfless, loving and dedicated mother, wife, grandmother, friend, sister and daughter. From raising 4 children while my father worked over 15 hour days and traveled constantly for work, she has worn many hats in her life. Finishing school at just 16, she was a hairdresser (to Joe Jackson), she has run a nursery for toddlers, and was also a midwife assistant at the St. John and St. Elizabeth Hospital in London. She helped deliver Kate Moss and Paul McCartney's babies! Her claim to fame! I have the utmost respect for my mother, and appreciate her patience and guidance during my personal recent difficulties. She has consistently guided and supported me through it all.
Dwyer Kilcollin is another woman I deeply admire. She is the most incredibly talented, detail-orientated artist I have ever met, let alone have had the pleasure to work with and represent. Dwyer is first and foremost an artist, as well as partner with Yves Spinelli on their fine jewelry line Spinelli Kilcollin. And now a very new mummy, huge congratulations to Dwyer (and Yves!)
My PR career dates back to when I was living in my hometown of London. I began working when I was 19 years old doing PR at Agent Provocateur, which was part of my sandwich degree from the University of Manchester.
In my 12 years of experience, I have had many mentors that helped show me the tricks of trade. Jess Morris, former Agent Provocateur Director, and Arabella Rufino, Stella McCartney's Worldwide PR Director, I owe it all to the both of you. The strongest, sharpest, hardworking women I have ever met.
I cannot specify a single piece of advice, but the valuable lessons shown to me were to be persistent, be dedicated, and to think like nobody else in the PR realm. Go above and beyond.
"The key is to learn your competitors as well as you know the brands you represent."
What advice would you have for young girls who want to move into the same space you are in?
You must be driven and motivated, but follow your dreams, and don't ever take no for answer. Remember, no is yes. The jewelry world is small and intimate — we all know one another. From the brands themselves to the buyers, the publicists, and the press, there is more than enough room for everyone. There is such a vast amount of opportunity for every brand out there and every publicist. And the key is to learn your competitors as well as you know the brands you represent.
"You have to be really reactive and proactive. It goes both ways."
What's your system for staying on top of your emails?
In all honesty, I respond to almost every single email as soon as I receive it, and also have a great memory for anything work related. I am extremely quick — I mean I am a publicist, I have to be. If I wasn't, I would not be very good at my job.
If I receive an email where I need clarification from a client, I flag the email and as soon as I have a response, I reply, but the flagging most certainly helps. I create a to-do list every Sunday for the upcoming week, and also write down certain email chain reminders should I need more time on something pressing or if on deadlines.
Among her favorite pieces are a Kat Kim ear pin (named after her!) and a classic Messika necklace. The Kat Kim eternal necklace is one of her everyday pieces, along with her "E" and "R" Vale necklaces for Eli and Rafy, her two kids. She also has a vintage Cartier watch in her jewelry box, a gift from her parents when she graduated.
"I love my Solange ring," she says of the trademark Azagury-Partridge Hot Lips ring. "Jazz up the outfit with a funky statement piece." CVC Stones she likes because every piece is unique, and she loves marble. "The beautiful stone, found on a beach with diamonds inset on a long gold chain is the perfect staple pendant. My love for this piece is based around the simplicity and uniqueness as no two stones are identical."
The other piece of jewelry she never takes off and holds close to her heart is a custom Spinelli Kilcollin Libra ring, which she bought 8 years ago when she first met and discovered Spinelli Kilcollin on Instagram. She calls it her Vintage Spinelli! "An instantaneous bond and new found friendship formed," she says. "Little did I know Yves and the Spinelli team would shape my future."
Whose jewelry wardrobe, historically or fictionally, would you want to steal?
Life without earrings is empty! Elizabeth Taylor obviously!
What's a secret thing you like to keep in your desk/purse that no one would guess about you?
Well, as you know, I have two little boys. Eli is now 5 years old, and Rafy is 2 and a half. So that being said, as a mother, I need secret stashes for them. I hide Superhero Lego and Chocolate Kinder Egg Surprises (which my parents bring from London for them) for when Eli and Rafy come to play with me whilst I am working. I need to bribe and distract them sometimes. This certainly does the trick!
Who would be 3 women living, dead or fictional you'd want to be in a group text with?
Princess Diana, Oprah Winfrey and Audrey Hepburn.
Visit startupgirlfoundation.org to learn more about the companies our Duet Pinky Ring is currently funding. Make your own pinky pledge to pay it forward and support women by purchasing a Duet Pinky Ring here.