From Malaysia to LA: Wendy Ong's Whirlwind Rise in the Music Industry
Posted by Shiffon Co. on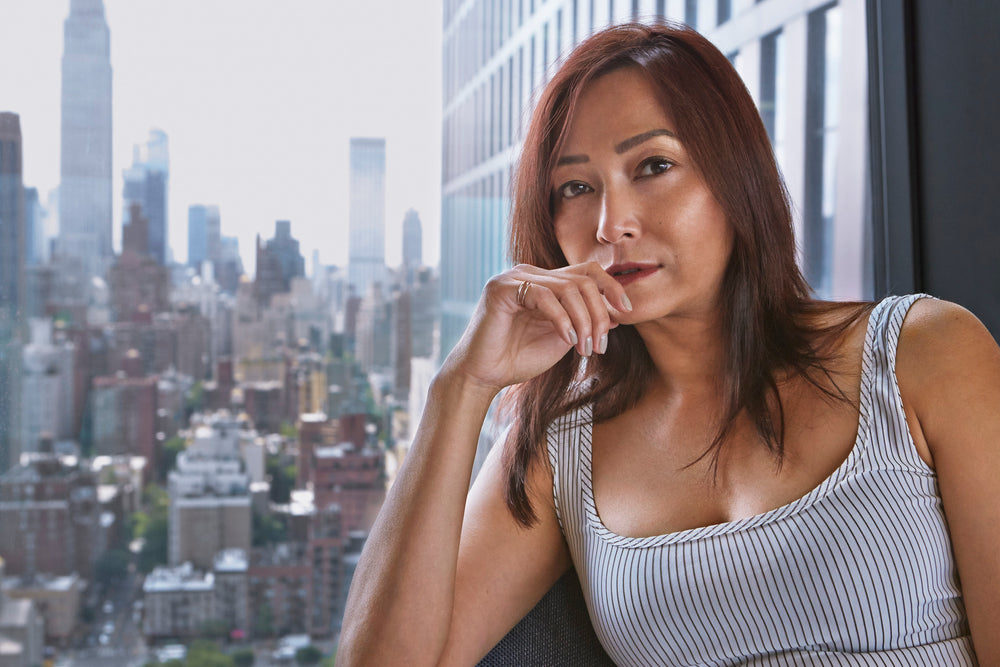 This feature is part of our series on women who inspire us. From entrepreneurs, stylists, and consultants starting their own businesses to executives changing the game at the highest levels, we're lucky to be able to learn from these incredible women.
In that vein, half the profits from our Duet Pinky Rings fund seed grants for entrepreneurs around the world. Each ring is a symbol of a pinky pledge to pay it forward to support women & a connection between each member of our community. Make your own pinky pledge here.
Three things you probably didn't know about Wendy Ong:
She didn't actually go to college.

She put out the first official piece of Fifty Shades of Grey merch.

She came to America without a job and now is an executive at one of the top entertainment companies in the country.
 
Wendy is the Chief Marketing Officer for Roc Nation, the full service entertainment company founded by Jay Z in 2008. Roc Nation's roster now includes some of the most recognizable names in music and beyond, including Rihanna, Mariah Carey, Shakira, J. Cole and Jaden Smith.
As a woman, an immigrant, and a person of color, she definitely stands out in the largely male-dominated music industry. We talked to her to learn more about how she got to where she is today, navigating cultural differences in the workplace, and how to deal with failure.
 



"I was born in Malaysia and I grew up in Singapore. I didn't actually go to college. I was in polytechnic, doing PR for my school radio station, and through that opportunity I formed relationships with people at the record labels. Before i graduated, BMG offered me a job, and I accepted. I always knew I wanted to work in music. That was always clear to me. I got promoted and the company moved me out to Hong Kong after about a year and a half, and I did marketing for Asia Pacific for 4 years.

I got married, and we moved to New York because my then husband got a job. I definitely wasn't ready to move, but I got there, and started knocking on the doors of the presidents of all the record labels, and I got hired by Clive Davis and started working with Diddy. So I did all the international marketing for him and the whole Bad Boy roster. I began my career in the States with hip hop, which is interesting because at that time in Singapore, a lot of this genre was banned, so I didn't have much previous exposure.

I wasn't that well traveled back then, but within two weeks on the job I found myself in Paris with Diddy and the whole entourage, not knowing what the hell I was doing. It was honestly such a culture shock for me, moving to the States and then going on the road with all these rappers, but I worked hard and it worked out. It didn't matter that I wasn't American, I was a woman or I was Chinese. It got to the point where he would only do promo on the road if I was overseeing it.
From there I went on to work with other artists — OutKast, The Strokes, Alicia Keys, Christina Aguilera, Foo Fighters, and a lot of the artists signed to Arista or RCA. My job was doing International Marketing so I traveled around the world with a lot of these artists and set up promotion for their albums outside of America.
After several years, I switched gears completely and I went on to work at the Metropolitan Opera. I knew nothing about the opera. My department was responsible for marketing, so I was able to take that on, and within a year I got a job as head of classical music at EMI. Again, I had no classical music background but the company hired me anyway based on my marketing skills.
I have a funny story about my time at EMI. Before the film, when Fifty Shades of Grey was just a book, I found that there were multiple classical music references so we put out an unauthorised compilation of music and called it Fifty Shades of Classical. The album debuted at #1 on the iTunes classical chart. As a result we got a cease and desist from the author E. L. James' agent and lawyer. So I reached out and said, 'hey, this is actually a really good idea, do you want to do this for real and I'll take the unofficial one down'. So I flew to London, met with the author, Erica, and we decided to make the official Fifty Shades of Grey, The Classical Album. So that was actually the first piece of merch before the movie and everything else.

Ironically, because of that, when EMI was acquired by Universal Music I was asked if I would move back to pop and do US marketing, so they moved me to LA. I worked at Capitol Records, then Interscope, and about a year and a half ago, I accepted an offer from Roc Nation.

My workload is now primarily on the management roster side. In my time at Roc, I have been lucky enough to work on some amazing projects including the 4:44 album, Rihanna's Fenty Beauty line and most recently the lingerie line Savage x Fenty. I'm just fortunate to be along for the ride. Jay [Brown] is an incredible mentor and executive - it's been very rewarding learning from him.
 

The music industry is notorious for being dominated by white males. What has your experience been?

The music industry is overall still very much male dominated, there are not a lot of women in power. I also see it as a couple of strikes against me — one, I'm a woman; two, I'm an Asian; three, I'm not American — but I didn't let that hold me back. One of my current bosses, Desiree Perez, is the COO of Roc Nation and she drives me everyday to be a better version of myself. She's incredible and a real inspiration. Through the course of my career, though, most of my bosses have been male. I've been fortunate that they've actually been really good stand-up men, and I've been lucky that I found support and respect from them. They saw me for my creativity, my ideas, my drive, my determination, and that's been really gratifying for me.  
Have you found a lot of major differences between working in the US and working abroad?
It's so different. Not just the fact that I grew up in Malaysia and Singapore, but when I did international marketing, I traveled around the world several times over with artists. Every country is different. There are cultural differences along with regulations that are different; for example, in France, it's actually mandated by law that a large chunk of what you hear on radio has to be French music. So for anything that is 'Anglo', as we say, that is not French, it's hard! Every country has its differences. I always encourage people to whether you're traveling for pleasure or for work, just get out of your comfort zone. Like I love going to Tokyo and getting lost in Shibuya, and god knows I've done that so many times. You're walking around aimlessly, and you're kind of mildly panicking, and nobody really speaks English. You just have to make yourself feel uncomfortable, because that's the beauty of it. If you want to be comfortable, go sit on your couch and watch some tv. It doesn't get you very far in life, I think!
Were there moments where you felt like you didn't fit in with American corporate culture?

Yes, it's like what you've read about in books. For example, bringing food from home and being really worried about heating it up at work — getting worried about the strange smells that come from the kitchen when I'm microwaving my food. That's a silly and basic thing. 
On a larger scale, in meetings, my Singaporean accent definitely comes out more when I'm nervous. So when I first started having to speak in meetings I would be extremely self conscious, start stammering and really struggle with getting my point across, which still happens to this day, by the way.
On failure
I've had multiple failures in my career.

The first time I had a big setback was when I left RCA/Arista.That was around 2009 and the music industry was on a real downturn and everything was bottoming out. I wasn't sure what I wanted to do with my life and that's when I switched to the Met Opera. I was out of my comfort zone. I think you become more resilient. You pick yourself up a little bit faster and dust it off a little bit quicker. I've also learned not to take things so personally, because at the end of the day it's business.

I've certainly been let go/laid off from jobs but I don't think I would be the person that I am today if things like that hadn't happened to me. I really grew as a person and as an executive and became more compassionate too. It builds character and resilience at the end of the day.



Visit startupgirlfoundation.org to learn more about the companies our Duet Pinky Ring is currently funding. Make your own pinky pledge to pay it forward and support women by purchasing a Duet Pinky Ring here.