Celine Khavarani, PR and VIP Expert, on "Having It All" and Paying it Forward
Posted by Shreya Chaganti on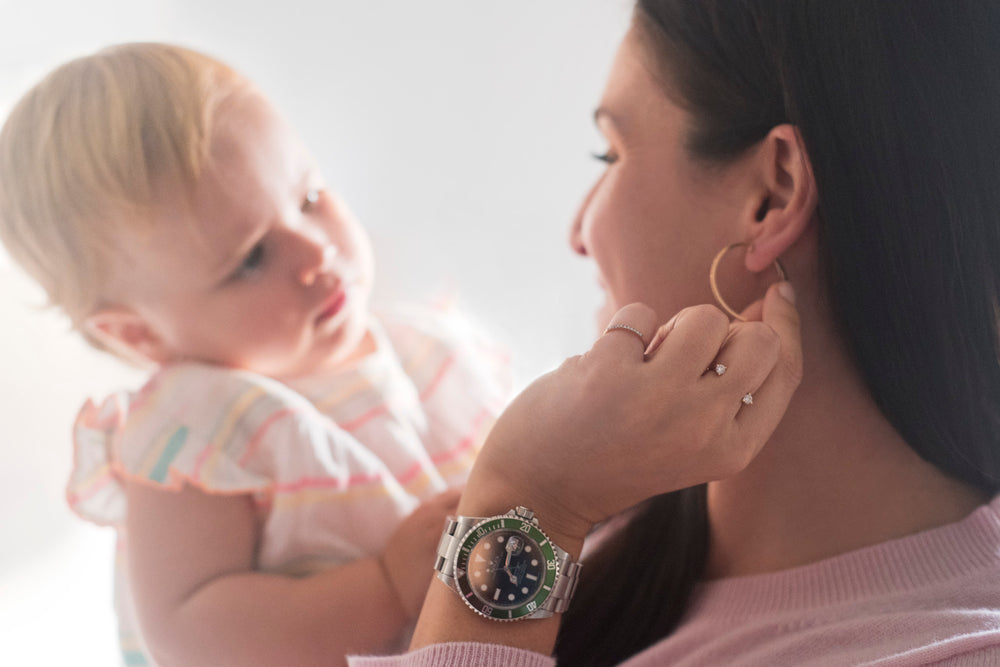 Celine is our newest addition to the Shiffon Co. Mentor Board, and we're so excited to have her! This feature is part of our series on women who inspire us. Half the profits from our Duet Pinky Rings fund seed grants for entrepreneurs around the world. Each ring is a symbol of a pinky pledge to pay it forward to support women & a connection between each member of our community. Make your own pinky pledge here.
Photographed by Melinda Li
Edited by Shoji Van Kuzumi
"People say you can have it all. I believe you can't have everything at once. It's about prioritizing what's most important depending on the phase of your life."
Meet Celine Khavarani. Currently the Senior VP of Communications at luxury footwear brand Tamara Mellon, she's already spent a career traveling the world for brands like Prada, Jimmy Choo, Bulgari, and Giorgio Armani. Recently, she's embarked on an adventure of an entirely different kind - motherhood. We visited her and her beautiful baby girl to learn more about her career, mentors, and of course jewelry!
On career:
During my internship at Christie's Auction House my senior year of college, I had an amazing boss, who is still a very good friend and mentor. She was instrumental in making me feel like I could pursue any career path. When an interesting opportunity arose, she helped with my resume and cover letter, and made all the necessary introductions. Even though I began the internship wanting to work in the art world, based on the insights I gained while interning with her, I decided to segue into fashion. I am still grateful for her love and support.
My first fashion job was being a PR Assistant at Giorgio Armani. Once I got a taste of the fashion PR world, I knew this was what I absolutely wanted to pursue. I next moved to Bulgari, and then to Jimmy Choo (where I first met Tamara Mellon). In 2006, Prada offered me the job of my dreams. I was incredibly nervous about resigning because I had enjoyed my time at Jimmy Choo so much. Tamara was incredibly kind and supportive, and she said we would work together again one day. So, 12 years later, when she asked me to join her new namesake direct-to-consumer luxury footwear brand, I jumped at the opportunity.
I have spent the bulk of my career working for massive luxury brands. Although I have enjoyed and learned from all those experiences, what I love about being at a startup is that everyone has a voice and a seat at the table. Great ideas come from collaboration, and when genius strikes, we can act quickly since we are lean and nimble.
I believe in paying it forward. It's my responsibility and honor to help young women by introducing them to people, taking them to industry events and nurturing their career growth.
It's important to never feel threatened by their brilliance, how bright they shine or how intelligent they are. I think mentoring younger leaders can only reflect more positively back on you. Encourage colleagues to speak up, be proud of their achievements and take on more responsibility.
"The people that you see on the way up are the same people you see on the way down," is a piece of advice that's stuck with me. Be nice to everyone. So I respond kindly to every single email, regardless of who sent it.
On jewelry:
In 2010, after a particularly busy and stressful time at work, I planned a very last minute solo trip to India.  I bought a yellow gold and green tourmaline ring at the Gem Palace in Jaipur. It's always served as a reminder not to get stressed out and to breathe. The trip recharged me and the ring always takes me back to that feeling. 
Two years ago during an idyllic holiday in Greece, I decided that once I got home, I would try to get pregnant on my own. I was there with my best friend and the day I made the choice, I bought this little diamond pinky ring. It was a promise to myself that I wouldn't back out or give up. Luckily I ended up having a daughter, so I can pass it down to her one day.
My sweet girl, Luella, is the best thing I ever did. I think it's amazing to be able to see the world through her eyes. I feel more of a responsibility to support other women now because I am raising one.
What's a secret item you keep in your desk/purse that no one would guess?
I started writing in a journal the night before I got pregnant. I have it with me all the time. I documented everything I was feeling and thinking before Luella was born.  I've continued recording her milestones and our special moments. I look forward to giving it to her one day with the pinky ring.
Who would be 3 women living, dead or fictional you'd want to be in a group text with?
I can't pick just 3 women, but my 3 men would be Che Guevara, George Michael and Junot Diaz.
Visit startupgirlfoundation.org to learn more about the companies our Duet Pinky Ring is currently funding. Make your own pinky pledge to pay it forward and support women by purchasing a Duet Pinky Ring here.