Why This Model And Nonprofit Founder Dedicated 11 Years To Girls' Education In The Congo
Posted by Shiffon Co. on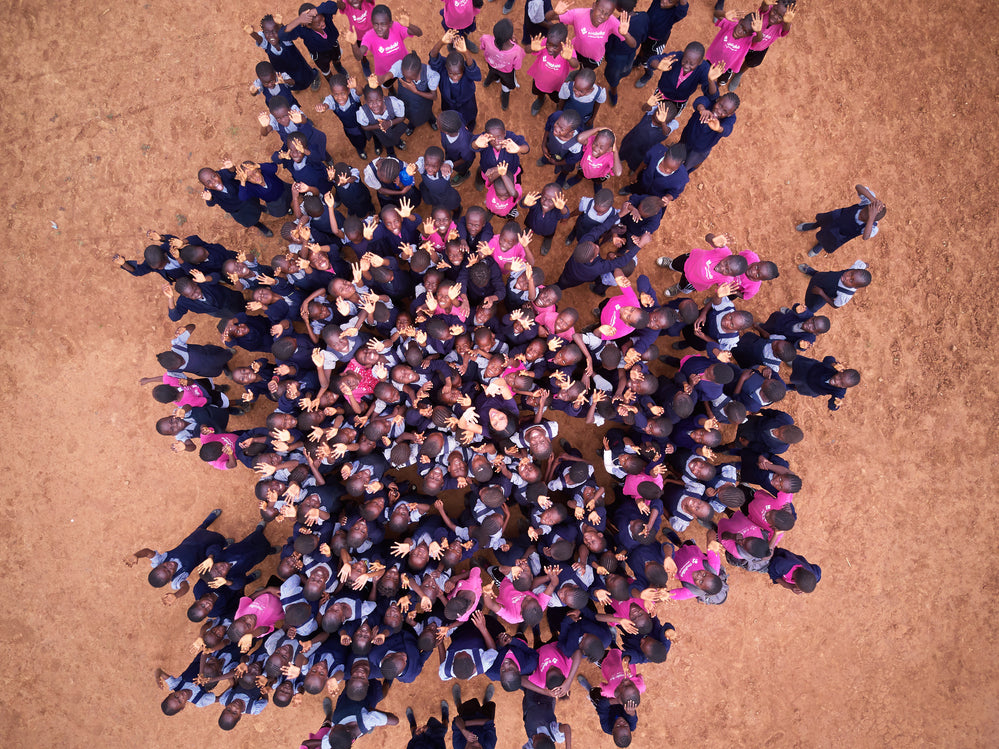 For many, September marks the beginning of a new school year. This year, we wanted to draw attention to how different the perception, access, and attitude towards education is around the world. This special feature is written by Noella Coursaris Musunka, Founder and CEO of Malaika, a nonprofit organization in the Democratic Republic of the Congo transforming its local community through education and infrastructure.
By: Noella Coursaris Musunka, Founder and CEO of Malaika
Working with girls is deeply personal to me. Education is an essential component of a girl's overall well-being. When we educate girls, we create a transformative effect – a cycle that creates more prosperous societies. I am proud to share that Malaika is now in its 11th year of work, using a comprehensive approach to support young women and girls in their quest to dream big and fulfill their goals.  
We founded Malaika in 2007 as a grassroots nonprofit with a mission to empower girls and communities in the Democratic Republic of Congo (DRC) through education and health programs. Malaika, which means "angel" in Swahili, believes in the enormous potential of the Congolese people to bring about lasting, positive change on their own terms. The DRC has great potential wealth due to the minerals in the land, and through education we aim to help the people of DRC to take control of this wealth. We provide them with the tools and opportunities so they can move forward and live their lives with dignity and purpose.
This work is a homecoming for me. I was born in Congo. When I was 5 years old, my father passed away. My mother was not educated and did not have the resources to take care of a young child, so she sent me to Europe to live with my father's relatives with the hope that I would have more opportunities there. It would be 13 years before I returned to Congo.
Meeting my mum and extended family again at age 18, and seeing them living in extreme poverty, was a visceral experience. It was hard to process the sacrifice my mother had made by sending me away, but I understood she had believed in the power of education to shape my life. After the trip, I knew I needed to play my part, to find a way to tackle the education crisis in my home country and empower the most vulnerable members of the population: young women and girls.
Malaika operates in the village of Kalebuka in the Southeastern region of the DRC, where the majority of households practice subsistence farming and brick-making and most people live on less than $1.25 a day.
My international modeling career afforded me the opportunity to fulfill that mission with the creation of Malaika. More than 260 million youth are out of school worldwide, and more than 3.5 million of these youth are in the DRC. National data indicate that only 67 percent of children who enter first grade will complete sixth grade in the DRC, and of those who reach 6th grade, only 75 percent will pass the exit exam. Malaika operates in the village of Kalebuka in the Southeastern region of the DRC, where the majority of households practice subsistence farming and brick-making and most people live on less than $1.25 a day. Before Malaika, the underserved area had no access to electricity, clean water, or educational facilities. The youth literacy rate in the Kalebuka village is amongst the lowest in the country, where its approximately 8 percent for girls. To begin combating these issues, we built a school.
The Malaika School is a free, accredited primary and secondary school that provides a comprehensive and high quality education to 314 girls. Through our school, we aim to build the leadership capacity of each student so that she is empowered to give back to her community and can have a positive, long-term impact on the future of the DRC. The holistic curriculum is structured around daily classes in French and English, and on subjects including math, science, IT, health and civics. Art, music, theater and sports also play key parts in the robust educational programming. The girls receive a nutritious breakfast and lunch each day and they have access to healthcare, ensuring that they are healthy and able to focus on their classes. Our students had a 100% pass rate on the 2017 national Grade 6 exams, proving that the school's curriculum is indeed high quality.
Overall, we take a holistic, comprehensive view of development, incorporating local voices and needs in our work. In recent years, Malaika has expanded out from the school into the community, partnering with FIFA to build a community center that offers literacy, health, entrepreneurship, agriculture and sport programs to more than 5,000 youth and adults from the surrounding Kalebuka village. We are also working with partners to boost health and prevent malaria in the region by distributing 9,000 mosquito nets and providing residents with access to clean water through our 17 freshwater wells.
We view Malaika as a hub for education and innovation, where we are trying new things on a small scale and in a system that we can control, with the hope that our ideas can then be replicated for maximum impact across the DRC and Africa. Please visit malaika.org to read more stories from our work and to learn how you can get involved with our students!  
Related articles
International Supermodel Noëlla Coursaris Musunka Provides Water to 18,000 People
Girls' Education Advocate Tara Abrahams on Finding Your Path and Making a Difference
Alexandra Waterbury, Model Student — Literally
About Shiffon Co.
Shiffon Co. is a fine jewelry brand and social enterprise. Half the profits from our Duet Pinky Rings fund seed grants for entrepreneurs around the world empowering women. We believe in paying it forward the way our mentors did for us, and building a worldwide community that shares our values through our pinky rings, to support women in pursuing their dreams. We only sell direct to consumer, bypassing the standard retail markups that are commonplace in the fine jewelry industry and passing the savings onto you! Learn more.