How This Designer and Entrepreneur Aims to Empower Women
Posted by Shiffon Co. on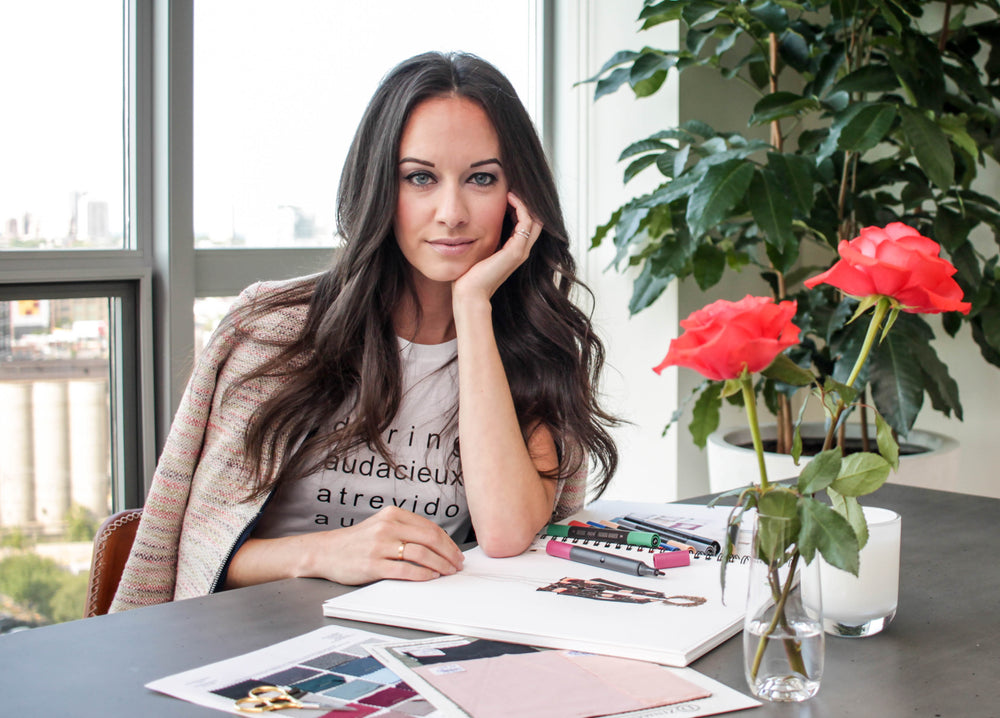 Written by Ingrid Vega and Shreya Chaganti
This feature is part of our series on members of our community who inspire us. From entrepreneurs, stylists, and consultants starting their own businesses to executives changing the game at the highest levels, we're lucky to be able to learn from these incredible role models.
In that vein, half the profits from our Duet Pinky Rings fund seed grants for entrepreneurs around the world. Each ring is a symbol of a pinky pledge to pay it forward to support women & a connection between each member of our community. Make your own pinky pledge here.
Katie Farnan is one of Shiffon's earliest customers and one especially near and dear to our hearts. An entrepreneur and designer herself, she reached out to us to donate part of her own profits to our nonprofit arm, the Startup Girl Foundation. She had an unconventional start to creating her eponymous line: she had no formal schooling in fashion design and started off as a marketer for IT companies. She eventually became a personal stylist and decided she wanted to create. That prompted her to launch KATIE FARNAN a year and a half ago with the objective of empowering women through modern and versatile designs. We chatted with her to learn more about her business and why she believes in paying it forward.


On starting her business
I started it about a year and half ago and launched my website in September 2016. I initially only had about 10 pics and was still sewing everything myself. To grow it I decided to first reach out to boutique and they ended up wanting really wanted six styles and then six pieces of those six styles. Within 3 months of putting up my website, I was also getting orders. It was overwhelming so I looked for manufacturers. That took me about ten months to find one, I went through quite a few. I wanted to keep it Chicago-based and made in the U.S. to make it local, so I can visit and work with it hands on, and support workers in our community. Since I had my manufacturer, everything has been kind of rolling along. It's so tough, but really cool. I'm still so early in what I'm doing, I've learned a lot, but there is still much to learn. Having your own business means wearing different hats: One day you're wearing a design hat, and then a business hat, or a marketing hat, but it keeps you on your toes!
Before fashion design
I went to school in South Carolina, at Clemson University and studied business management. My focus at the time was being an athlete and to enjoy that experience, so I chose that school.  I really wanted to go to art school, but I fell in love with Clemson, so went with them. I always did want to be a designer. When I was 11 I started sewing and always made things on my own: purses, doll clothes, or American girl dolls. I was thinking of going back to school for fashion design but I graduated in 2009 during the recession. At the time, you had to find any job and hold onto it, so I started with a marketing job for an IT company in Atlanta, where I'm from. Subsequently, I moved to Chicago and still continued with IT marketing. After that, I chose the fashion route and became a stylist for 5 years at Trunk Club, a styling box service. I started working there early on and did that for a while! It got to that point where I was like: "Why wasn't I designing clothes?" and it pushed me into my own pursuit. It feels like I've been doing it my whole life.  My nana actually taught me how to sew and I've been doing it since was very little. It's innate in me to create, it's just always been in my blood!
Inspiration behind the designs of her "empower" collection
What happened in Hollywood was really heartbreaking, but many women are feeling empowered right now. Girls used to be a little more competitive and this brought us together, supporting and lifting each other up. People are really grasping for a story and gravitate towards things that mean something. I picked the three words (for my shirts) based off of what makes people feel good. Firstly, "feminist" came up, and it's also something guys can wear if they wanted to support it too. "Daring" came easy because if we were going to do this, we have to be daring! "Confident" is something I chose because as entrepreneurs we basically have to fake it till we make it! The point of these shirts and putting it on is labeling yourself in what you believe in. I wear these shirts all the time! With a leather jacket, a shirt, and with heels  — it goes with everything! It is powerful and I really love it.
On what made her decide to donate to Startup Girl Foundation
It goes back to sisterhood, being an entrepreneur, sisterhood is what it was really all about. I wanted to create a story: if someone puts a piece on that has benefitted a woman and a dream that she has, it would mean so much to me. Same thing about Shiffon  — I love the ring and wear it everyday! I know when I go shopping and I see something that says a certain amount is going to be donated to an organization that promotes either being an entrepreneur, a mentorship or helping people's startups get from ground up;  thats just so cool to me. My boyfriend is also an entrepreneur and he's had his business for about four years and I learn a lot from him. I feel like sometimes we are a little alone when we are starting our own business because it's really just you! If I can make a product where the profits go to someone who will get mentored or feel guidance and support, that is just so cool to me. Days go by when you're in that grind, if you could just get one opinion, that means a lot.
On what girl gang means to her
It's a resource, a place to go to feel inspired, or even village of support. Even if you don't necessarily know these people, you see them and see yourself in them. It is a place get recharged and see that there's other women out there like you.
On the inspiring women in her life
My family. They've always been super supportive and I don't get to see them all the time, living in Chicago. And when I was a stylist, I met very supportive girls too! Even if I haven't worked with them for over five years, we still get together every other month and do wine night. They are such a cool and calming crowd. Women who also laid the groundwork for us  — fifty years ago, marching down the street or months back with the women's march — they, too are inspirations. My goal is to make clothes for these women and make them feel confident and that they can do anything!
Visit startupgirlfoundation.org to learn more about the companies our Duet Pinky Ring is currently funding. Make your own pinky pledge to pay it forward and support women by purchasing a Duet Pinky Ring here.