Hitha Palepu: CEO, Mother, Blogger, and Author
Posted by Shiffon Co. on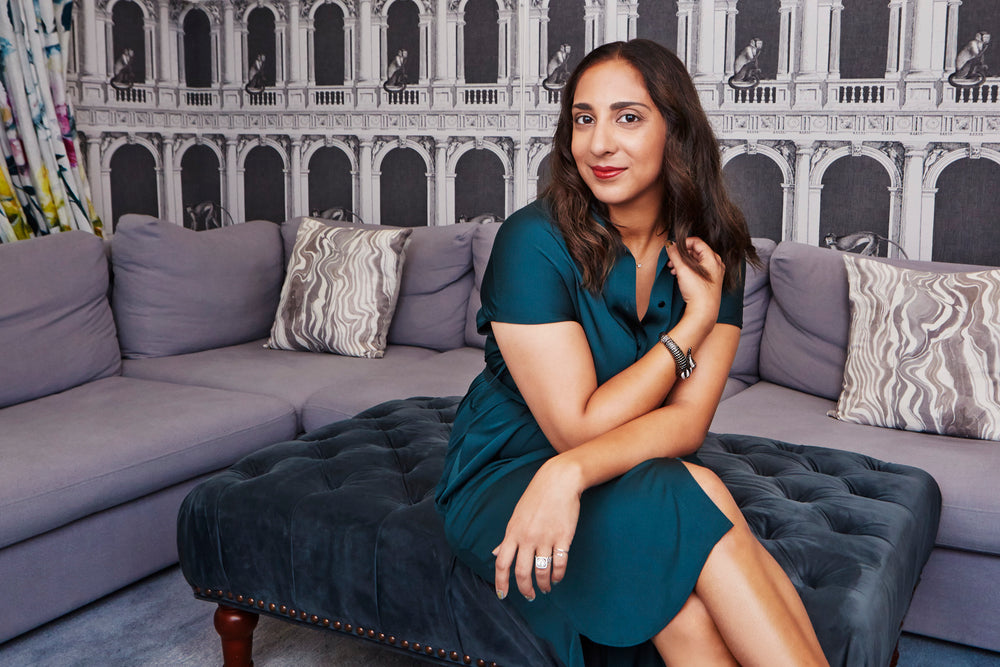 Photographed by Shoji Van Kuzumi
Written by Ingrid Vega and Shreya Chaganti
This feature is part of our series on members of our community who inspire us. From entrepreneurs, stylists, and consultants starting their own businesses to executives changing the game at the highest levels, we're lucky to be able to learn from these incredible role models.
In that vein, half the profits from our Duet Pinky Rings fund seed grants for entrepreneurs around the world. Each ring is a symbol of a pinky pledge to pay it forward to support women & a connection between each member of our community. Make your own pinky pledge here.
As a CEO, mother, blogger, and author, Hitha Palepu is a self-confessed multi-hyphenate. First and foremost, however, she is a mother to her three-year-old son, Rho. The CEO of her son's namesake company, Rho Pharmaceuticals, she is in charge of ensuring that the company meets its objective to develop faster treatment for immediate heart attack and stroke, expecting to launch the product by 2021. Since 2009, she has also been running the blog Hitha On the Go where she shares packing and travel expertise. It's even led her to a book deal — which she signed the day after giving birth to her first kid! She released How to Pack in 2017 which is now in its third printing.
She sat down with the Shiffon team to teach us how she manages to navigate so many responsibilities efficiently — and, of course, to show us her incredible jewelry collection.
Tell us about yourself!
I am a multi hyphenate: I'm the CEO of Rho Pharmaceuticals, so that really takes up a lot of my time. When I'm not working on Rho Pharmacy, I'm working on my son, also named Rho, who is 3 years old. He's very energetic, has a lot of opinions! I've also been running my blog, Hitha On the Go for 9 years! I run the blog because I truly love it.  It makes me happy when I feel like when I crack the nut on something  — packing, work hacks, productivity, easy meals, outfits you can wear to work, or the books I'm always reading  — I feel the need to share with everyone who is willing to read it. It's really still a passion but is also its own business. And, if I have some time left over, I'm cooking, reading, or crocheting  — I have the interests of an 80-year-old grandma! I also love to travel whenever I have the chance. This year I've been focusing more on personal trips, because why not? It has been really fun to scratch that travel itch.
Some of Hitha's meaningful jewelry pieces, including a cuff bracelet inscribed with her son's name and her traditional Indian wedding necklace.
What are some of your favorite places?
There are places I've been to once or twice and would go back like Malta, I think it will be the next Croatia. I suggest you go before it gets super scene-y! I'm also absolutely fascinated with Russian culture and history; I subscribe to the "I don't want to judge everyone else to judge us (Americans) because of Trump, so I wont judge Russians because of Putin" ideal. I've been (to Russia) about three times, and  will go back many, many more. India too! The biryani, all the little local gems.Thailand is amazing, Bali is magical — I would go back in a heartbeat! I want to give China another shot. I didn't have the best first experience, but I owe it to myself to give it another shot and take what I've learned in the first trip and apply it to have a more positive next trip. I also think travel doesn't have to be so far around the world. I think going upstate; Hudson Valley just in upstate New York. There are so many amazing little towns, nature, hiking. It's a great accessible getaway when you don't have time, energy, or funds to travel somewhere new. I'm also going to Cuba for the first time in October, very excited about that!
Do you travel for work a lot?
I would say a mix; certainly the blog got its moniker because I was traveling all the time for business. I used to travel three weeks out of the month for business! The packing content (for Hitha On the Go) started because packing was something I was doing all the time, and I felt like when I figured out an efficient strategy, I owed it to everyone else to share it. People were asking how I did it when I would post on my Instagram "on the road for 3 weeks, 5 stops, here is my luggage!" With the things coming up for Rho Pharma, there's going to be a lot of business traveling, but I also don't want to be away from my son too much. If I'm going to be away from him it has to be relaxing, a way for me to recharge.
On time management:
Im ruthless about a couple of things  — I also have a post about this on my blog. My to-do list only has five things in it. I've had days when I get those five things done, and then will want to continue to do more things. And if I have two of those back-to-back days, I burn out spectacularly! I'd just be sitting on the couch with Bravo [channel] on the background mindlessly scrolling Instagram, taking care of the bare minimum of what needs to be done... and I'm not even productively recharging! By deciding to get these five things to be done today, I make it a priority to not do more and to do things I actually want to do like cooking, or crocheting, or starting a new series on Netflix if that's really appealing to me right now! I'm dying to see Secret Games, this Bollywood series that is a Netflix production  — it looks amazing! I find that if I do that — prioritize re-charge time  — I'm more productive the next day, and I can add a 6th or 7th thing that I can do regularly. When I say things, I these aren't minor things; it will be like write three new things for the blog or five new slides for the deck.
"You really have to start with your 'Why'." 

 On structuring:
The other things is structuring; I work for myself so I have the flexibility to structure my weeks.  With the exceptions of Rho Pharma team calls, I don't take any meetings on Mondays. I put my computer on airplane mode, and my phone on do not disturb. Mondays are my days to create, thats when I'm freshest and make progress on the highest priority strategic work. Tuesdays and Thursdays are my meetings days. I try to cram in all my calls and work from The Wing. I know I'll only get emails done those days so I let myself just do those. Fridays, I recharge. All the tactical stuff that isn't high priority like accounting expense reports, putting together a tutorial on how to use Google Slides because it's way better than powerpoint, that just needs to get done, happens on a Friday. It's not business-critical, but its critical to the business. Wednesdays are magpie days, so whatever didn't fit in any of those days go on Wednesday. It happens about 70% of the time and I'm really intentional, if things go haywire, I have one day a week to do meetings where I can sit at home or the deck and hammer out work to get fully caught up.
What does being a CEO entail?
It is terrifying.  In our case, we are responsible for bringing the potential to save millions of lives to the market and and do it in a way that is responsible for the consumer. It is going to help change how healthcare is delivered to America for the better. And, we also have to do so while staying on budget, and staying within our timelines. What it comes down to is hiring smart and good people who do things better than anyone else. I work with my father which is the greatest gift I could have, this man is a genius! He doesn't like to take credit though. Everyone who works in our company has done this for decades and is really among the best. Whether is manufacturing, medical affairs, regulatory, or preclinical. I'm really lucky to work with very smart people so I don't feel like I have to micromanage  — everyone is amazing at what they do! My responsibility is to fundraise, updating investors in an appropriate way, coming up with strategic alliances, and executing upon them as well as the overall direction of the company. We won't be public with what we do until we file our new drug application so it's also defining when we stop talking about what.
What's been fun for me now is building something that I think will help turn the tide of how pharmaceutical company have developed products, what they prioritize, how they price, and thinking of these as a greater scheme of how were going to make Americans healthy, not just managing disease. That's my gold star. You really have to start with your "Why"  — mine is it will save millions of lives; I want to do that properly. You also have to really be in touch with your team and know what everyone is working on. Jump in when they need help and direction and stay out when they are doing it appropriately. It's also challenging because I work with older, senior people who have been doing this for longer than I've been alive, it's a challenge, but everyone is incredible! It's a wonderful experience.
Visit startupgirlfoundation.org to learn more about the companies our Duet Pinky Ring is currently funding. Make your own pinky pledge to pay it forward and support women by purchasing a Duet Pinky Ring here.