HerCampus Cofounder Annie Wang on Starting a Global Media Company For Women
Posted by Shiffon Co. on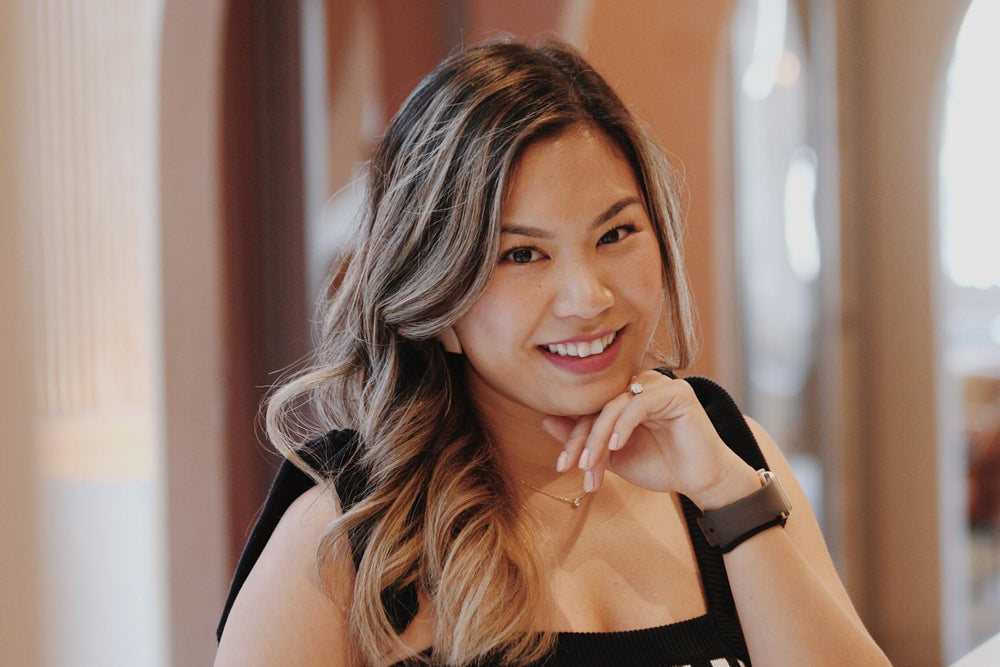 This feature is part of our series on members of our community who inspire us. From entrepreneurs, stylists, and consultants starting their own businesses to executives changing the game at the highest levels, we're lucky to be able to learn from these incredible role models.
In that vein, half the profits from our Duet Pinky Rings fund seed grants for entrepreneurs around the world. Each ring is a symbol of a pinky pledge to pay it forward to support women & a connection between each member of our community. Make your own pinky pledge here.
Photographed by Gillian Henry
Annie Wang and her two Her Campus co-founders saw a void in the media industry in 2009: There weren't any destinations for lifestyle content for college women by college women. So, they launched HerCampus.com, which soon took off as the #1 website and community for college women everywhere. Her Campus has since grown into a sisterhood with a presence at over 380 chapters at colleges all over the world and is now the leading lifestyle content platform for millenial and Gen Z women. Annie sat down with us to talk about the early beginnings of Her Campus, her business advice, and of course, her favorite jewelry!
Tell us about yourself and how Her Campus got started.
During my freshman year at Harvard I met two amazing women — Stephanie and Windsor. At the time, the three of us were working on a lifestyle print magazine on campus for Harvard college women. We decided to bring the publication online to modernize it and allow us to reach a broader audience. What we didn't realize was that we would immediately start receiving traffic from not just Harvard college women, but college women everywhere. We realized there was this need in the media industry for lifestyle content by college women for college women. Through the success of this publication, we had this idea of doing something bigger — not just this publication at Harvard, but a platform that could allow anyone to create a similar magazine on their campus. We entered a business plan competition at Harvard with the idea for Her Campus in 2009. The three of us lived together over the summer in a tiny little apartment in New York City, working on our idea, and launched our business in September of that year.
Where is Her Campus now?
Our website, HerCampus.com, is the leading destination, global community, and career launching platform for millennial and Gen Z women who want to succeed in every area of their lives, whether it be college life, health, relationships, career...you name it. We are that "big sister" who has done it before and can offer honest advice, encouragement and inspiration. We are here to support and celebrate women going through the process of forming their own identity.
We have a global chapter network comprised of student organizations at more than 380 colleges around the world, each of which have their own microsite within hercampus.com. There, student contributors cover the issues and events, both lighthearted and serious, affecting college women on their campus. We empower our students to develop their own content and run their chapter the way we successfully did at Harvard. These communities end up being similar to professional sororities in terms of the sisterhood they foster as well as the career advancement and connections they provide through giving these aspiring media professionals the real life experience they need to land their dream internships and jobs.
Regarding our business model, we quickly realized brands have a hard time reaching the valuable college demographic in meaningful, authentic ways, so we've developed our own in-house full service marketing agency that runs award-winning college marketing programs for the world's top brands, connecting them to our audience across multiple touchpoints.
What was the trajectory of building this company? Did you have investors?
We've been bootstrapped since day one. We haven't raised a penny from any investors, and we're extremely proud of that! We've stayed profitable from the start by running a lean, smart business and focusing on staying cash flow positive through the efforts of our sales team.
What were some challenges you didn't expect to face?
In the beginning, it was definitely about having enough time. We first ran Her Campus while still full-time students, so balancing school and Her Campus was an early challenge. In fact, after Stephanie and Windsor graduated (they are a year older than me), I decided to take an extended leave of absence from Harvard so I could also work on Her Campus full time.
As first-time entrepreneurs, we grew from our mistakes and learned to persevere. As they say, "Entrepreneurship is not a sprint, it's a marathon," and that's so true. Sometimes winning just means getting through another day and moving forward.
Were there moments were you thought you weren't going to make it?
I don't think I've ever seriously thought we would fail, but one of the things I've learned is that growing a business isn't just about the product, but about growing a team of people. Because we are focused on the college demographic, much of our team is comprised of recent college graduates in their first jobs. As a leader, you have a lot of responsibility to be there for your team and lead them in a way you are proud of. As time went on, the real issues keeping me up at night were related to managing people and becoming comfortable with every aspect of that — hiring, firing, giving tough feedback, providing opportunities for professional development, and more — it can be hard to do all of this thoughtfully and consistently when you are growing so fast. Now, our headcount is at about 50 full-time and part-time employees, and our team has never been stronger.
How many campuses did you start off with?
We launched with just one chapter, at Harvard, because we knew the Harvard community intimately. We expanded slowly at first because we wanted to get our model right before scaling. We first expanded to Boston University because it was geographically close by. Soon after that, someone from Florida State University reached out and wanted to start her own chapter. That made us realize we were already reaching a broad audience, even if we hadn't established chapters in other areas yet. From there, we started receiving a steady stream of applications from students who wanted to start their own Her Campus chapters at colleges around the world. We've since grown our network to over 380 chapters around the world, relying mostly on word-of-mouth marketing and the network effects of our growing contributor base.
Do you do any sort of outreach now?
Now, we have a community team that manages our chapters and recruits new ones, including helping us expand globally!
On her jewelry
I love style and fashion — I'm a total shop-a-holic! I don't go vintage shopping often, but one day while shopping at SoWa (this great market in Boston), I saw a brushed gold piece and picked it up. I'm a sucker for the vintage gold look -- I have a ton of pieces with this finish from Madewell.
Growing up I always had a lot of jewelry. Though my mother and grandmother don't wear much jewelry, they did hand me down precious family heirlooms which I cherish. Similarly, my mother-in-law has started a tradition of passing down precious pieces from her collection to her daughters and daughters-in-laws every Christmas. She has a vast collection and gives me new pieces every year. This is a really special tradition for both of us. I'm wearing one of her gifts to me and some pieces from my husband.
On her engagement ring story
I knew I wanted it to be a solitaire-cut diamond set in a thin gold band — I let my husband Kenny figure out the rest. My parents also gifted me a Cartier Love Bracelet as an engagement present and got Kenny a Cartier watch. This bracelet is probably the most precious piece I have.
I think it's funny that both my mother and mother-in-law gave me similar jewelry. I got this double strand pearl necklace from my grandmother before I was married. Shortly after I was married, my mother-in-law also gifted me a pearl necklace. I love that these two pieces are different, but both fundamentally pearl necklaces. I also have two crosses. This platinum one is from my mom and this gold one is from my mother-in-law. Our faith is really important to us and I just love that they are parallel versions of the same thing.
Want to learn more about the companies the Duet Pinky Ring is currently supporting? Subscribe to our newsletter and make your own pinky pledge to pay it forward and support women by purchasing a Duet Pinky Ring here.