Fashion Journalist Rebecca Suhrawardi on Mentors, Media, and Finding Your Path
Posted by Shiffon Co. on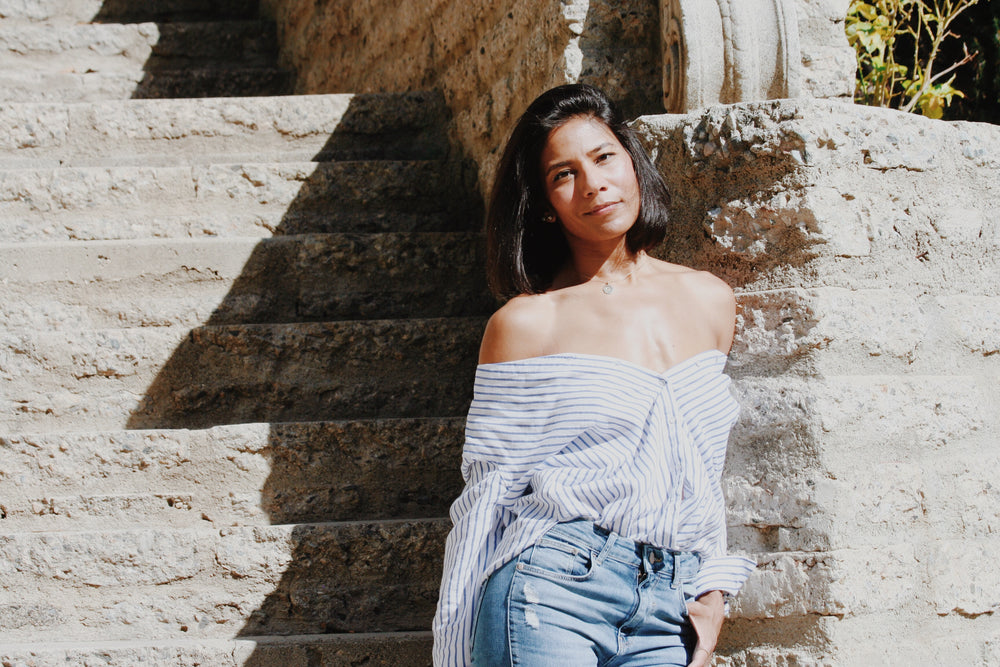 This feature is part of our series on members of our community who inspire us. From entrepreneurs, stylists, and consultants starting their own businesses to executives changing the game at the highest levels, we're lucky to be able to learn from these incredible role models.
In that vein, half the profits from our Duet Pinky Rings fund seed grants for entrepreneurs around the world. Each ring is a symbol of a pinky pledge to pay it forward to support women & a connection between each member of our community. Make your own pinky pledge here.
Photographed by Gillian Henry
Though she was a reader from an early age, fashion journalist Rebecca Suhrawardi wasn't always interested in writing. Discovering her calling during a stint at Interview magazine, she went on to build an incredible career writing for other landmark publications such as Elle, Harper's Bazaar, Paper, and Vogue.
"Fashion school is a ridiculously female-driven environment," she says. An alumna of the Fashion Institute of Technology in New York and the prestigious Central Saint Martins in London, she was able to find a cadre of strong, career-oriented female mentors.
We had the chance to chat with Rebecca to talk about how she got to where she is today. She shared with us why turning down Columbia Journalism School was the right decision for her, how she dealt with being told she wasn't a good writer, and her thoughts on the current state of media.
On getting her start in writing

I was reading before kindergarten and writing always came very easily, but I always assumed that everyone was able to write because we all learn how to do it in school. I didn't realize it was a talent until I had my first experience at a magazine. I worked for the Fashion Director of Interview magazine, the late Annabel Tollman (also one of my biggest supporters), and because it was an independent publication everyone wore many hats. One day Annabel asked me to ghostwrite a story for her and she had an incredible response to what I'd written—she loved the words and how quickly I turned in passionate, articulate copy. That's when I knew I'd found my calling. I've never looked back.

I still feel as though my parents would have been much happier if I'd chosen a different path or married the conservative South Asian doctor. I think it all comes from a good place, though. Ultimately I think South Asians crave security versus risk, and fashion journalism isn't a path that necessarily leads to security.
I've always stayed true to myself and stood my ground since I was little, so while [my parents] probably had some ideas of what I should be doing, I always did whatever I wanted anyway.
Background and education
I did my undergrad at The Fashion Institute of Technology after transferring from George Washington University. FIT was the first time I'd truly met and felt supported by strong, female mentors. Growing up South Asian, it meant I saw a lot of women who were homemakers, educated and powerful, but homemakers nonetheless. And I have zero judgment about this. What it meant for me, though, is that I had to look outside of my immediate community for career-oriented female mentors. That's why FIT was so pivotal. I was student body president there and was on the Board of Trustees. I was very close with Dr. Joyce Brown, the school's president, and Dr. Nancy Grossman, our head of student life, among others incredible women. Fashion school is a ridiculously female-driven environment, so in that sense, it was the perfect environment for me at that time.
At Central Saint Martins, I was in the storied MA Fashion and studied in the journalism pathway. The late Louise Wilson was my course director and she famously shaped the careers of fashion geniuses like John Galliano, Jean Paul Gaultier, and Alber Elbaz. To be in the incubator that was the MA Fashion program of 40 or so students was like living in the zeitgeist—no, it was the zeitgeist! The fashion world looked to this program to see the talent that would be to come and shape the industry. My contemporaries were people like Mary Kantranzou and Simone Rocha while my professors were people like Roland Mouret, Tim Walker and Emanuel Ungaro.

And it was brutal! Students are pinned against each other or put up on pedestals to create competition. It was not a nurturing environment, per se. It was an environment where people were torn down and rebuilt, that is IF they would make it through the program at all. I remember my tutor, Roger Tredre, telling me I wasn't a good writer (sorry to throw you under the bus Roger, I still love you!). At the time, his statement cut, and frankly, at that time I still had to develop so much more as a writer. I know now it was said to push me harder and get better at my craft. That's the London education system. No one pussyfoots around or gives you directions on how to do something, they just make you do it.
On creating a career without traditional journalism school

I remember having a conversation with Dr. Valerie Steele, the fashion historian and curator of the museum at FIT, after I had my acceptances from various journalism master's degree programs, including some Ivy Leagues. I wanted her advice on where I should ultimately study. She asked me if I wanted to be a journalist or a fashion journalist. And I answered the latter. And she said, "Well, then you go to Central Saint Martins."

I think it would make me feel amazing to have an Ivy League degree but I wouldn't trade in my London experience for anything in the world! It's also interesting to carry that inside, given how this world can put such heavy weight on material things as accolades, degrees and wealth, to know that I could've done something the world would have valued more but instead chose my own path.

On the impact of the digital shift on traditional media

Media is not about what you cover necessarily but the lens through which you cover it. Think about it, whether it's the news or fashion, all media is basically covering the same happenings or people, but it's the lens that makes any media outlet what it is. Over a decade ago, at the onset of digital, content went from being very thought out to desperately wanting to sound like a blog. Pieces got shorter and more first in person. But that's where the lens aspect came in again as we moved from trying to copy the likes of Man Repeller and instead worked on carving what the voice of a magazine sounds like in the digital age. It's still evolving. Right now, in certain topics, it's longer format content that is suprisinngly getting shared and read more. This would have been unheard of even 5 years ago when everything was 500 words or less. It's all still an evolution for traditional media.
On the important women in her life

In addition to the women who've supported me in my education and Annabel, I have an incredible group of strong female friends around me who are walking on the same path. They are women who have had to fight for their success in one way or the other and we prop each other up when needed. Women like Pippa Vosper, the fashion editor and influencer, Hitha Herzog, the television personality and retail analyst, Poonam Khubani, who co-founded Telebrands, Clare Thompson, the Cambridge-educated doctor cum concert pianist cum winner of the grueling marathon de sables (a marathon a day for seven days through the Sahara desert!). I lean on these women every day.
A day in the life and wellness rituals
I somehow survive on very little sleep! I wake up between 5:00 and 5:30 AM, drink a liter of water, hot water and lemon, and drink apple cider vinegar. I meditate for 20-40 minutes and then walk the dog. I then work out for about an hour and by the time I'm showered and ready it's about 9 AM and I'm ready to work. My day may consist of being glued to my desk and writing or it may be full of appointments. In the evenings, I'll probably go to an industry dinner or event and then in bed by 10. I wake up the next day and do it all over!

On future plans

I will definitely expand my writing into books, perhaps launch a digital content platform. I'd like to buy a small island and flat in Paris eventually, but that's still a ways away!



Visit startupgirlfoundation.org to learn more about the companies our Duet Pinky Ring is currently funding. Make your own pinky pledge to pay it forward and support women by purchasing a Duet Pinky Ring here.